Muna Coterie Event Planner Ashley Merisier of A. Merisier Events and her hubby Paul celebrated their little one on the way with an intimate maternity shoot in Soho, New York City.
The couple, who are expecting their first baby together on November 29th, began their love story in a very special way.
Ashley recalls, "My father was a Senior Civil Engineer. When he passed away, my family started a scholarship fund at his alma mater. Paul was the 2012 recipient of my father's scholarship."
With fate and her father's spirit bringing them together, a connection blossomed between them. Fast forward to a family reunion trip with Ashley's family, Paul planned to propose and kept a ring carefully hidden in his coat pocket.
However, while Paul showered, Ashley packed their belongings for their flight home to NYC the next day and stumbled upon the ring box.
"I put the ring on and told Paul "Yes!" as he came out of the shower," she shares, smiling. "The rest is history!"
The beautiful couple tied the knot in April 2017 at Fox Hollow in Woodbury, New York.
Six years later, they are incredibly excited to be starting a family together.
With the baby coming soon, Ashley laughs, "I've given this baby a formal eviction notice so I'm hoping she pops out any day now!"
To celebrate the impending arrival of their little one, the couple worked with photographer Lilian Haidar of LH Photography + Film for an intimate maternity shoot around Soho, New York.
With two outfit changes, including a colorful ruched dress and blue floral gown for Ashley and a gray suit jacket and black slacks for Paul, the couple radiates the happy glow of parents-to-be!
Keep reading below for a Q&A with Ashley Merisier and photos from their maternity shoot!
---
Couple: Ashley & Paul Merisier
Due date: November 29th, 2023
Location of shoot: Soho, NYC
Did you have a theme for your maternity shoot?
We didn't really have a theme. Our amazing photographer, Lilian, just guided us every step of the way. She made us feel comfortable so it was fun to have that moment with one another!
What are you looking forward to most about becoming a mom?
I am looking forward to teaching my child about all of the beautiful things there are in this life and how to appreciate them!
Do you know the gender of your baby or any names you're thinking about for your little one on the way?
We're having a girl and her name is Quinn Iris Merisier.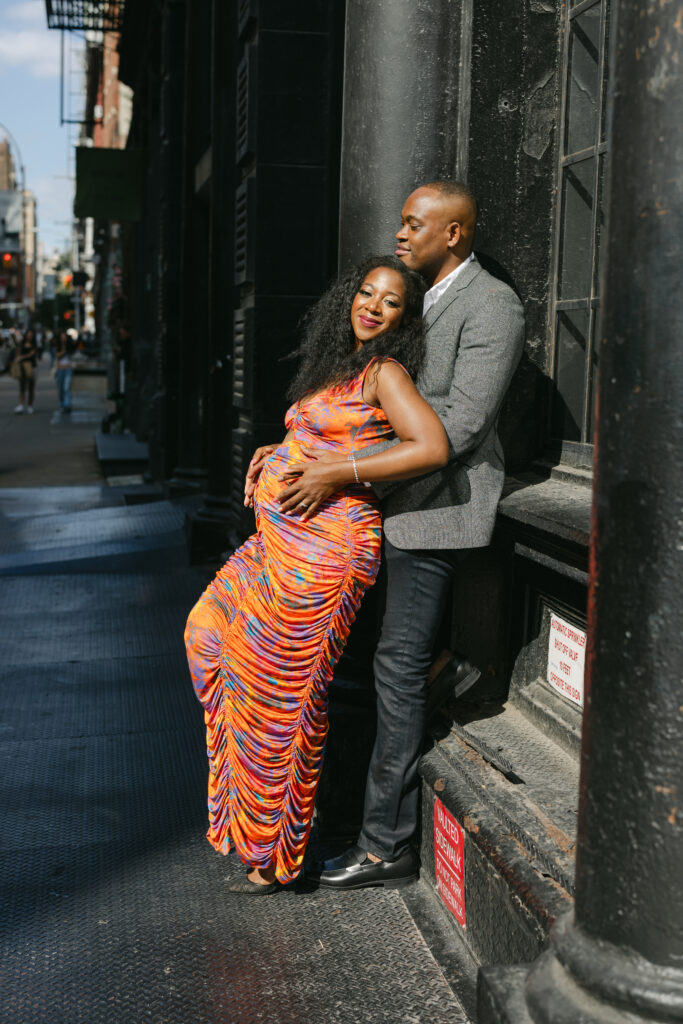 How has your partner supported you during your pregnancy?
In every way – I could not imagine going through this pregnancy without my husband. Despite him handling the bulk of all of the physical load of responsibilities we shared prior to the pregnancy, his emotional support got me through the tough moments.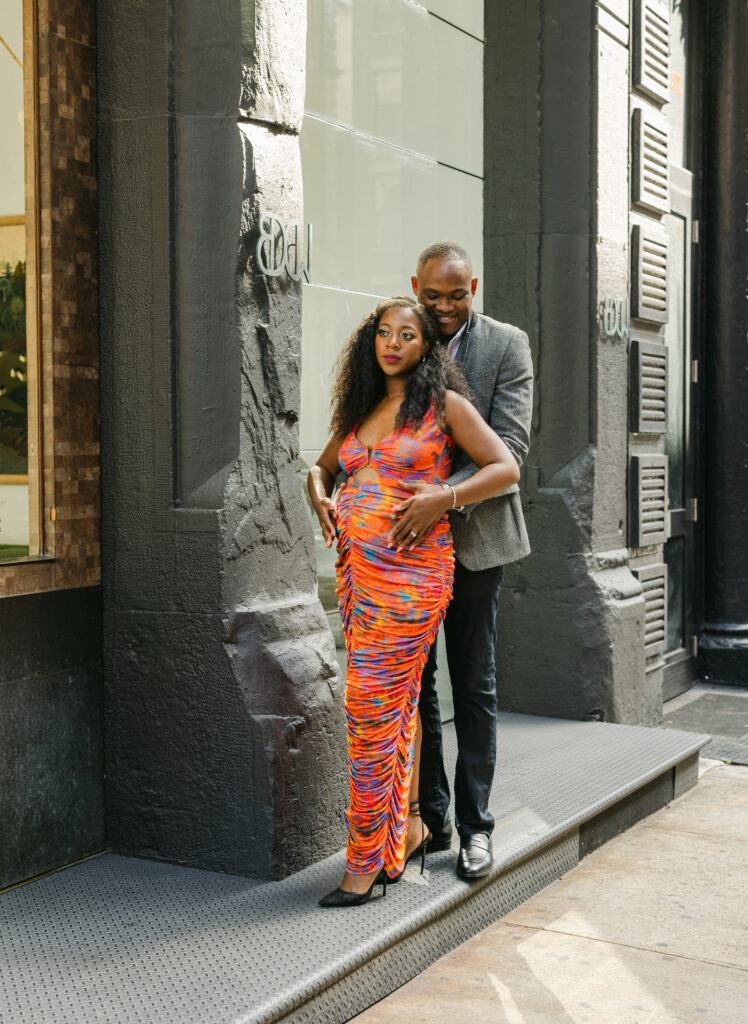 How do you plan to balance running your own business (A. Merisier Events) with motherhood, in addition to keeping your romantic relationship thriving?
We intend on being proactive vs reactive and have a plan of action – the best Retired Grandparents a baby could have – who will be helping us manage a healthy work, personal life, and love balance.
What is something you've learned about yourself during your pregnancy?
That I have entered an entirely new level of womanhood and I am embracing it fully.
In your motherhood journey, who inspires you?
My grandmother, Iris, who passed away earlier this year. She was the epitome of a mother to me. My mother as well as I understand the sacrifices she continues to make for me in a completely different light. I am most appreciative that I have these examples of powerful, independent, and intelligent women who managed home just as well as their entrepreneurial endeavors which gave me the opportunity and know-how to also pursue my own fearlessly!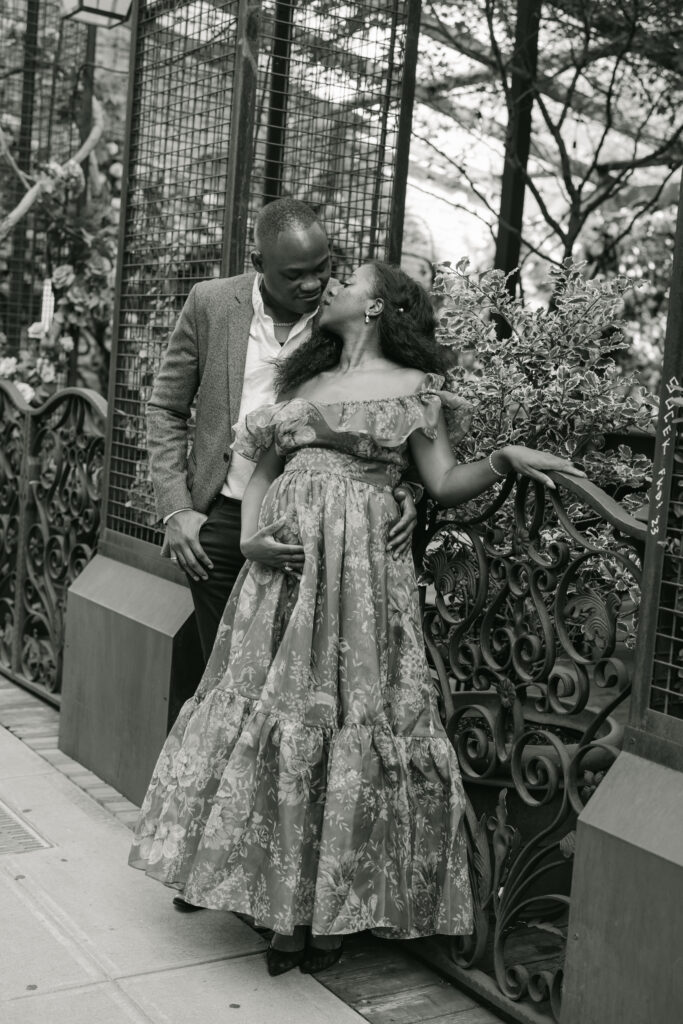 Is there any advice you would like to share with other Muna Mommy's and career moms?
Embrace motherhood wholeheartedly and be prepared to feel whatever you need to feel when you do! This process is life changing and nothing can prepare you for it so roll with the punches. Also, do not let anyone's opinions shape the decisions you need to make for your family. If you choose to stay home for 6-12 months then more power to you, on the flip side, if you opt to go back to work in 6 weeks so be it – do what you need to do unapologetically!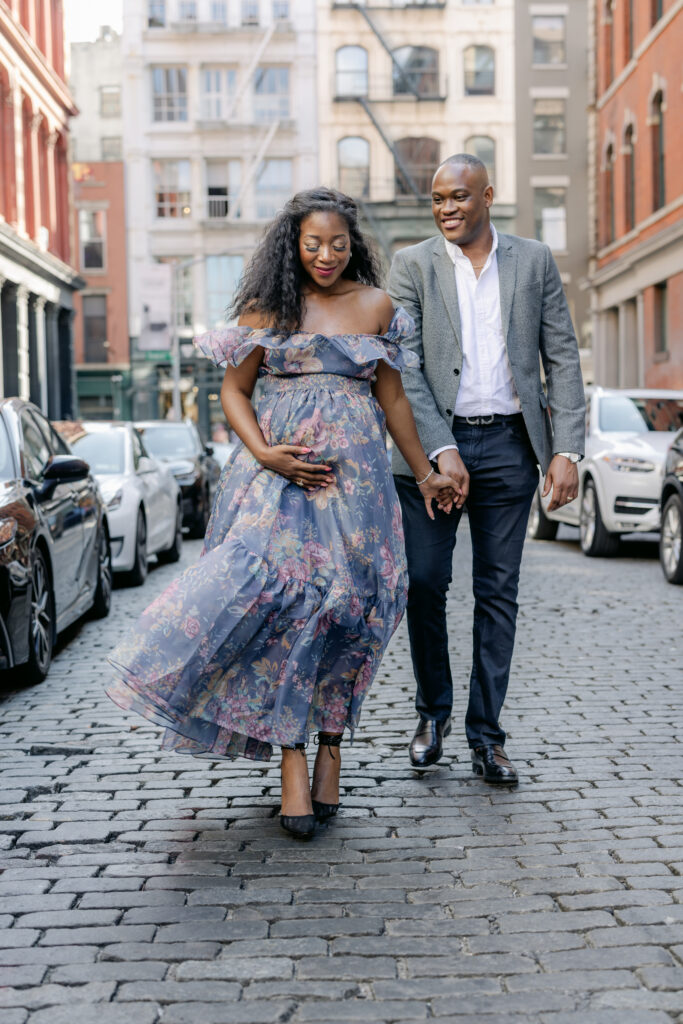 Do you have any other exciting updates?
No business updates for now – I will be home during the winter working on weddings for 2024 and 2025 however my Wedding Season will not begin until May 2024!
Looking for more inspiration like this maternity shoot in Soho?
Click here for more!
Vendors: