On Sunday, November 5th, 2023, Dr. Tricia Quartey-Sagaille will be running for Black Maternal Health as part of the New York Road Runners (NYRR) running organization in this year's NYC Marathon.
A dedicated dentist, wife, and recent first-time mom living in Brooklyn, New York, Tricia is passionate about Black Maternal Health.
While she has always been a strong advocate for improved maternal healthcare (specifically within the Black community), it was after experiencing her own IVF challenges and health complications during her pregnancy that she truly found her voice.
Speaking on her own birthing experience, Tricia shares, "I know I'm not alone but I did have a lot of fear going into my planned c-section. Even though we are a developed nation, our mortality rates during childbirth are higher than you would expect. Black women die at 3 to 4 times the rate of White mothers regardless of socioeconomic status. We need to change this statistic."
Unfortunately, Tricia isn't wrong. The Black Maternal Health Crisis in America is (and has been) an ongoing issue. Only recently have more folks beyond the Black community started paying closer attention.
As revealed back in July during our exclusive interview with Ada Okafor (the General Counsel and inaugural Chief Diversity Equity and Inclusion Officer of a non-profit health organization), Black Maternal Health Week was only just established this year (on April 10th, 2023) to acknowledge these disparities and increase awareness.
For Black moms and moms-to-be, it's about time they are taken seriously. However, so much more needs to be done.
In Tricia's medical practice at Noble Dental Care, she believes caring and attentive medical professionals can truly make a difference in helping create safe spaces for women of color.
She shares, "Taking extra care to listen to Black women, acknowledge them, and pay close attention to them is the key. Having a conversation with a woman to discuss her fears can help break down walls. In this case, being more thorough and more diligent can be the difference between life and death."
In addition to providing compassionate, top-tier dental care, Tricia also takes on the pivotal role of educating expectant mothers, providing invaluable insight into breastfeeding challenges.
"I struggled with breastfeeding my son because he was tongue-tied," she recalls, "and although we did have it released with a frenectomy my milk supply dried up. From then on, I made it my focus to educate and help mothers and babies who were in the same predicament."
Tricia's clinic is one of the only practices in Brooklyn to perform the procedure known as frenotomy, which can correct tongue-tie. This condition affects nearly 5% of all newborns and can interfere with breastfeeding.
"Being a new mother is hard enough," she admits. "It's easy to blame yourself and feel inadequate because you are unable to breastfeed your child. I work with a non-profit that invites pregnant mothers to community baby showers throughout the year and there I give presentations on caring for yourself and your new baby."
"Knowing is half the battle," she adds.
When she's not helping patients or counseling new mothers, Tricia has found another love: long-distance running.
Although Tricia grew up playing several sports, it wasn't until adulthood that she truly fell in love with running.
Today, as a proud member of Black Girls Run, Tricia champions body positivity and holistic health, empowering women of color (and moms everywhere!) to stay active, practice quality self-care, and challenge stereotypes.
Originally set to run in the NYC Marathon in 2020, the pandemic caused her to defer to the latest year she could. At that time she wasn't even thinking about if she would be a new mom.
Now, in 2023, after welcoming her son last October, she is ready to compete again.
In partnership with the New York Road Runners (NYRR) organization, Tricia will be lacing up her sneakers this weekend in support of Shoe4Africa.
The non-profit organization is dedicated to empowering African women and children through healthcare and even built the first children's hospital in East Africa in Eldoret, Kenya, and continues to provide free schooling for children.
Honestly, I didn't think I'd be able to do this because my body is not the same, but I hope to inspire those other new moms to get out there and run. Even though my body has changed and I'm a lot slower it's an amazing accomplishment to juggle training for the marathon with this amazing thing called motherhood. As hard as a marathon is I do believe motherhood is harder.

Dr. Tricia Quartey-Sagaille
Before Tricia hits the ground running this weekend, we chatted with her online to learn more about her inspiring journey.
From her upbringing to starting her dental practice, to running in her first marathon, becoming a new mom, and her ongoing drive to change the narrative of Black Maternal Health, Dr. Tricia Quartey-Sagaille is proving to moms everywhere that if you can dream it, you can do it.
Read her story below!
---
Featured MunaMommy: Dr. Tricia Quartey-Sagaille
Business: Noble Dental Care (Brooklyn, New York)
Growing up with two parents in the medical industry, did you always feel a pull to be a part of a similar field?
I grew up in Southern New Jersey and I definitely felt the pull to be in healthcare.
As immigrant parents from Ghana, they always spoke about how great healthcare is and what a stable career you can have by going into healthcare.
It helps that I really did enjoy learning about healthcare and the way the body works.
I moved to Brooklyn in 2009.
Did you ever feel like you were treated differently in medical spaces?
I spent a lot of time in doctor's offices growing up because of my asthma, allergies, eczema, and eye problems, but I can't recall a time when I felt that I was treated differently in a medical space.
My mom was always the one who went with me to appointments, and she had no problems speaking her mind. Her background as a nurse certainly helps.
The care that I received from the doctors and the way that they impacted my health was ultimately why I chose to become a doctor.
When did you fall in love with dentistry and when did you decide to open your practice (Noble Dental Care) in Brooklyn?
I know that many people have a fear of the dentist but I never minded the dentist.
After college, I took time off before applying to medical school and my brother encouraged me to look into dentistry. I shadowed a student of my father's and I fell in love with the blend of art and healthcare.
I always knew that I wanted to work for myself and after graduating from dental school I started working at jobs that either didn't treat the patients the way that I wanted them to be treated or they didn't treat the dentists properly.
Since I couldn't find the ideal job that I wanted I decided to create my own. A year out of residency the construction of Noble Dental Care started.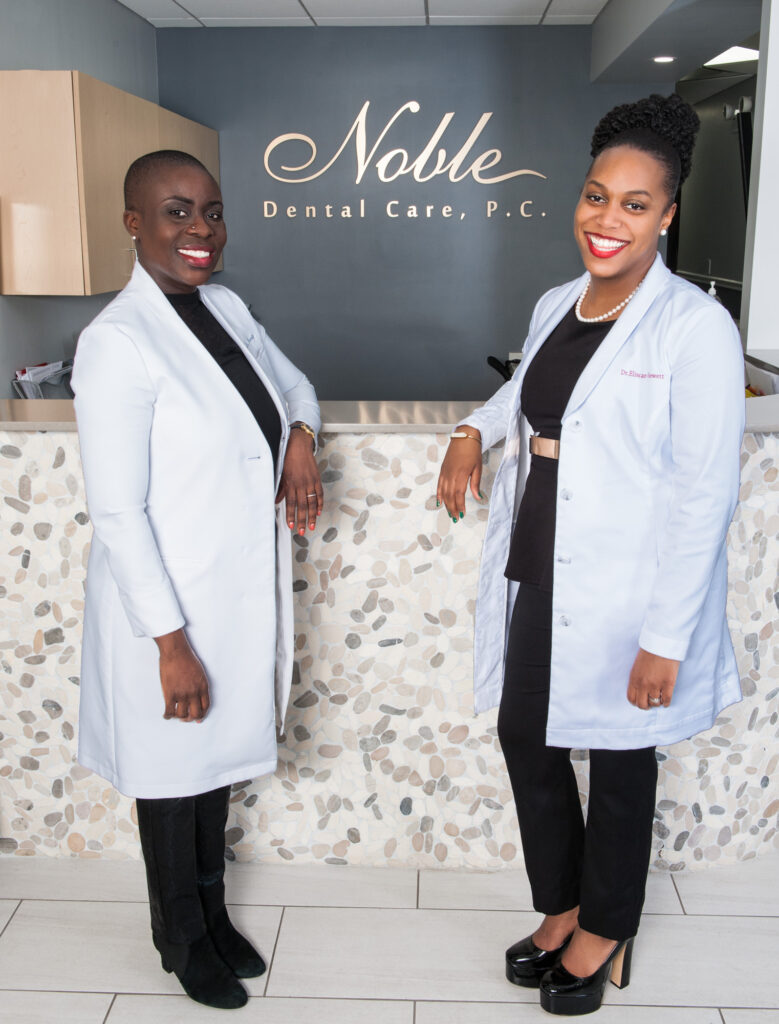 What makes Noble Dental Care Unique?
At Noble Dental Care we are focused on educating our patients and do a great job at helping patients overcome their fears of the dentist. The more we can explain and educate our patients the better outcomes they can have.
Sometimes patients forget that their mouth is connected to the rest of the body so it's best to remind them of the poor health outcomes that can happen in the rest of their bodies due to infections in the mouth.
The reverse is also true. Many health conditions and medications impact your oral health. We also include screening for airway disorders as it can also impact many health conditions and sleep.
And lastly, we have fun. Going to the dentist should be fun. Our patients often tell us it seems like they are visiting friends, not the dentist.
Congratulations on your little one last October! If you feel comfortable, please share details about your journey into motherhood and your personal birthing experience. How did your husband support you during these times?
My husband and I tried conceiving naturally for several months but I felt that something was off so I sought out a fertility specialist to do testing. I discovered that I had a blocked fallopian tube along with uterine fibroids.
The fibroid specialist told us that it would be almost impossible for us to get pregnant naturally based on where my fibroids were. I froze 4 eggs and then had a myomectomy to remove 13 fibroids.
In the end, I had only one embryo but clearly, that was all that I needed. A few months after my myomectomy I started IVF. Because of the myomectomy, I had a planned C-section.
The C-section went on without incident but I was disappointed that there was not a lactation consultant at the hospital and I had some issues with pain management.
My husband is the person to get up and go find someone to get questions answered so having him there was the support I needed.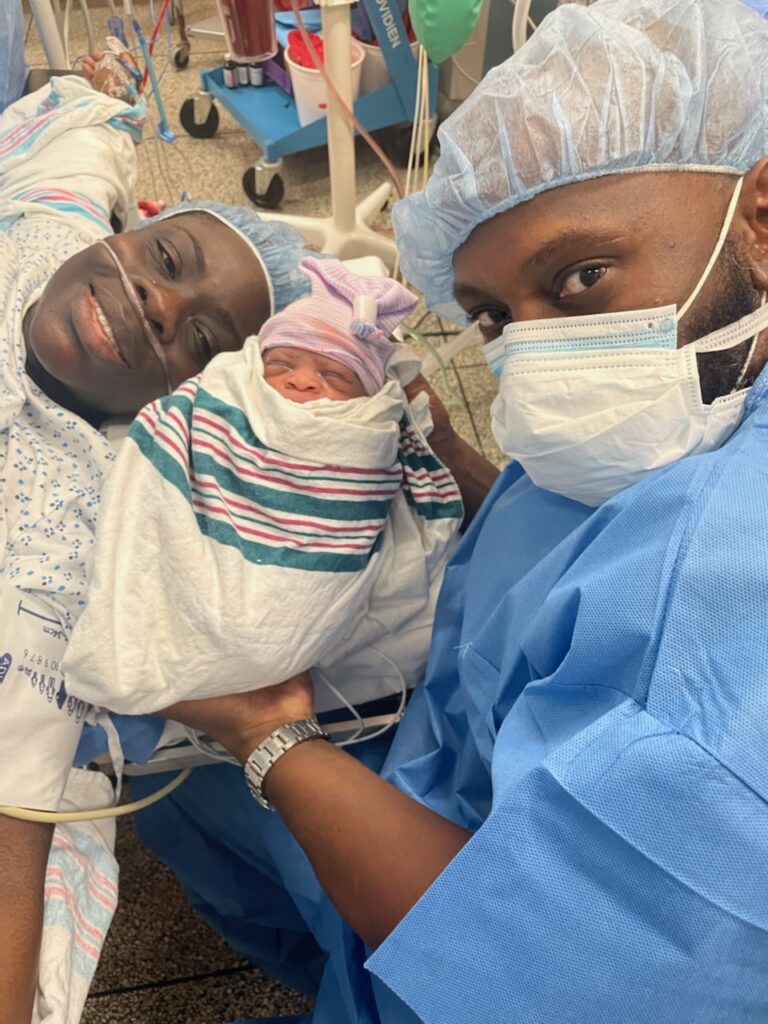 How did you stay positive during your journey to finally having a child and how was the IVF process?
I try to stay positive with everything in life and believe that if it's meant to be, it will be. I don't believe in worrying about things I have no control over.
The IVF process was challenging: from the daily 6 a.m. visits to the painful injections, it truly takes a mental commitment to complete. The waiting period is the hardest part. I still had patients scheduled at the office and trying to coordinate the transfer and move patients around was stressful.
Then the next waiting period is really the hardest. I tried my best to keep myself occupied to not think about the pregnancy test to determine if the IVF was successful.
It was several weeks after finding out that I was pregnant before it felt real. Somehow going through IVF made it much harder for me to wrap my head around.
As a Black Mom-to-be, what were your concerns or fears?
I had a genuine fear of dying during childbirth. I have had family and friends with horrible birthing experiences and indirectly know of 2 black women who have died during childbirth.
Ultimately, I chose a Black OBGYN to help decrease the risks of mortality. I was also concerned about having a miscarriage especially because of my advanced maternal age.
Did you feel supported and safe throughout your birthing journey?
I felt support from my husband and knew that he would be my advocate and speak up for me when I could not. My husband was there to drive me to work when I couldn't move my foot after one of my daily injections.
I can't say that I felt safe throughout the journey not because anything happened but because of the mortality rates of black women.
Do you have any self-care tips or advice for moms embarking on their motherhood journeys?
Self-care is so important. Stress has such negative outcomes in one's health so we need to focus on minimizing stress. You can't take care of others if you don't take care of yourself first.
I enjoy massages and acupuncture to help me quiet my mind. Pre and post-natal yoga and meditation have always been helpful to me because I suffer from anxiety.
Let's talk about sports! What sports did you grow up playing? And in adulthood, what inspired you to take an interest in long-distance running?
I tried almost everything growing up including soccer and softball but in high school, I focused on basketball, track and field, and ballet. I was also captain of the track team and was a sprinter. My best event was actually the high jump and I continued to high jump into my freshman year in college. I did do cross country in high school for one season because I lost a bet so I ran cross country my senior year.
A friend of mine got me interested in long-distance running in adulthood. I'm not the biggest fan of solo running, but I like races for that competitive nature. We would do a 5k or 10k and she told me I should do longer races. I completed my first half marathon and felt great after. I love challenging myself so I wanted to see if I could complete a full marathon.
What was your first marathon experience like?
I remember walking up with all of the Staten Island runners and saying out loud that this was my first marathon, and this will be my last. Someone laughed and said, "I said that 5 marathons ago."
The energy is amazing. I ran past my church on Lafayette Avenue and the full choir was singing. Unfortunately, I didn't train properly and injured my knee on my last 20-mile run.
During the race, my knee gave out at mile ten. I ended up walking for several miles and ran into a friend during the race. I tried to run/walk with her, but I had so much pain that I had to stop. Eventually, I continued to walk on by myself.
My family from out of town showed up to cheer me on right before I was about to give up. I didn't even know they were coming. After hugging them and carrying on the race I decided to stop at a medical tent where they gave me ibuprofen. Wow did that work! I was able to run the last few miles in the Bronx.
I could see the police cars slowly driving with their lights on indicating they were opening the streets to cars again and I told myself I couldn't let them beat me.
Even though I was super disappointed because I knew I had the endurance to run the entire race, looking back, just finishing was a big feat.
2023 will be redemption. I'm older but I'm mentally much stronger.
As an advocate for Black Girls Run, why should more women consider joining the group?
I was in the Facebook group for years before I ever attended one of their meetup runs. It's an amazing group of inspirational women.
Individual members will often post their workouts, share tips, and show off their medals after a race weekend. One of their mottos is "No Woman Left Behind" and I experienced that at one of the group runs. One of the leaders told me it doesn't matter how long you take we will wait for you.
More people should join because it is open to all levels. Some are only walking and some are doing a combo or running. It's nice to have this supportive group of women to meet up with where it doesn't feel like strangers. Plus, they've always been the loudest cheerers at all races.
One of their mottos has also been "preserve the sexy." I know many Black women are concerned about losing their curves, but we also need to find a way to focus on staying healthy, and running is a great way to do so. I
found a running partner from BGR and we would meet up to run at 5:30 am twice a week.
I don't think in any other group I would have felt comfortable meeting up with a stranger. It's the comfortability that we have that's just understood.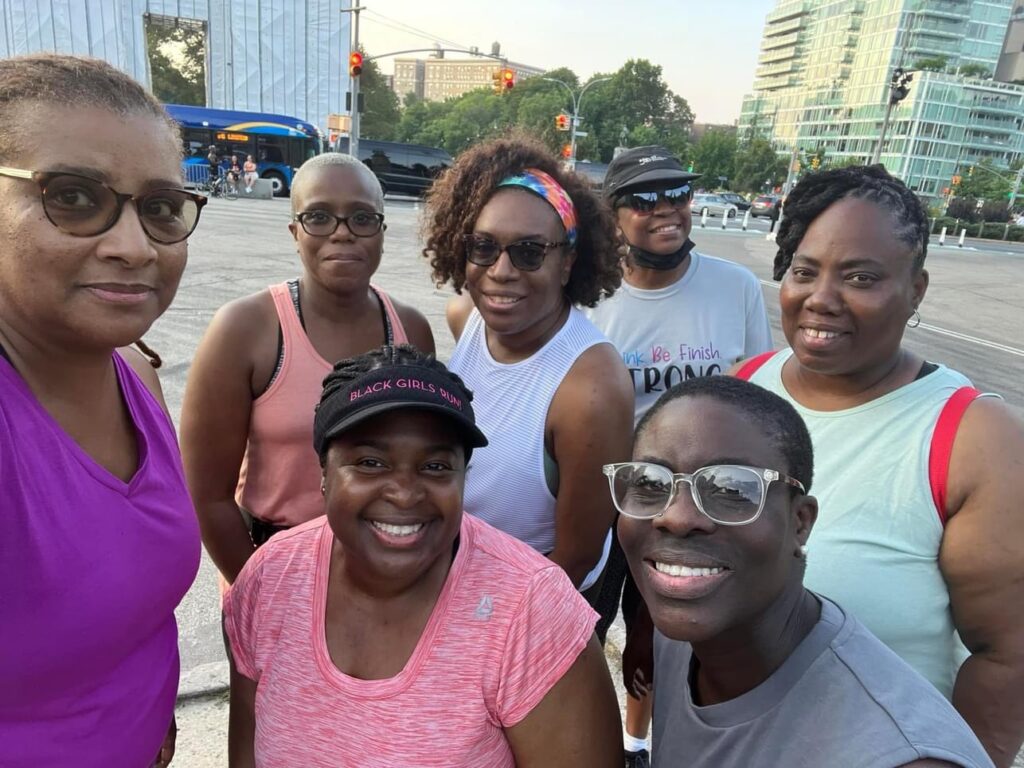 Exercise can feel extremely strenuous and even daunting at times; however, the process can also be empowering and healing. How has running changed you as an individual?
It's very hard for me to get out and run, but once I'm out there it feels amazing. That runner's high is unmatched and helps give me the energy I need in the mornings. Being able to increase your distance every week is really empowering. It's a reminder of how strong I am and what my body is capable of.
Running is a mental game. It does help to give you motivation in other aspects of life when you can conquer that running game and have your mind have power over your body.
As a new mom, what do you hope to personally achieve as you lace up your sneakers and head out to run on November 5th?
I hope to just finish. Beating my time from 2014 would be icing on the cake, but I'm hoping to take it all in and enjoy my time on the pavement.
Vendors: