What are the first things that come to your mind when you think of Memorial Day weekend? The first things that come to our minds are: barbecuing, drinking, going to block parties, driving down to the beach, and remembering the people who died while serving the country's armed forces. Our favorite part about Memorial Day is relaxing and having a delicious drink at a BBQ or the beach. We've rounded up 7 of our favorite mocktail and cocktail recipes for our munamommys!
Tropical Bay Breeze Cocktail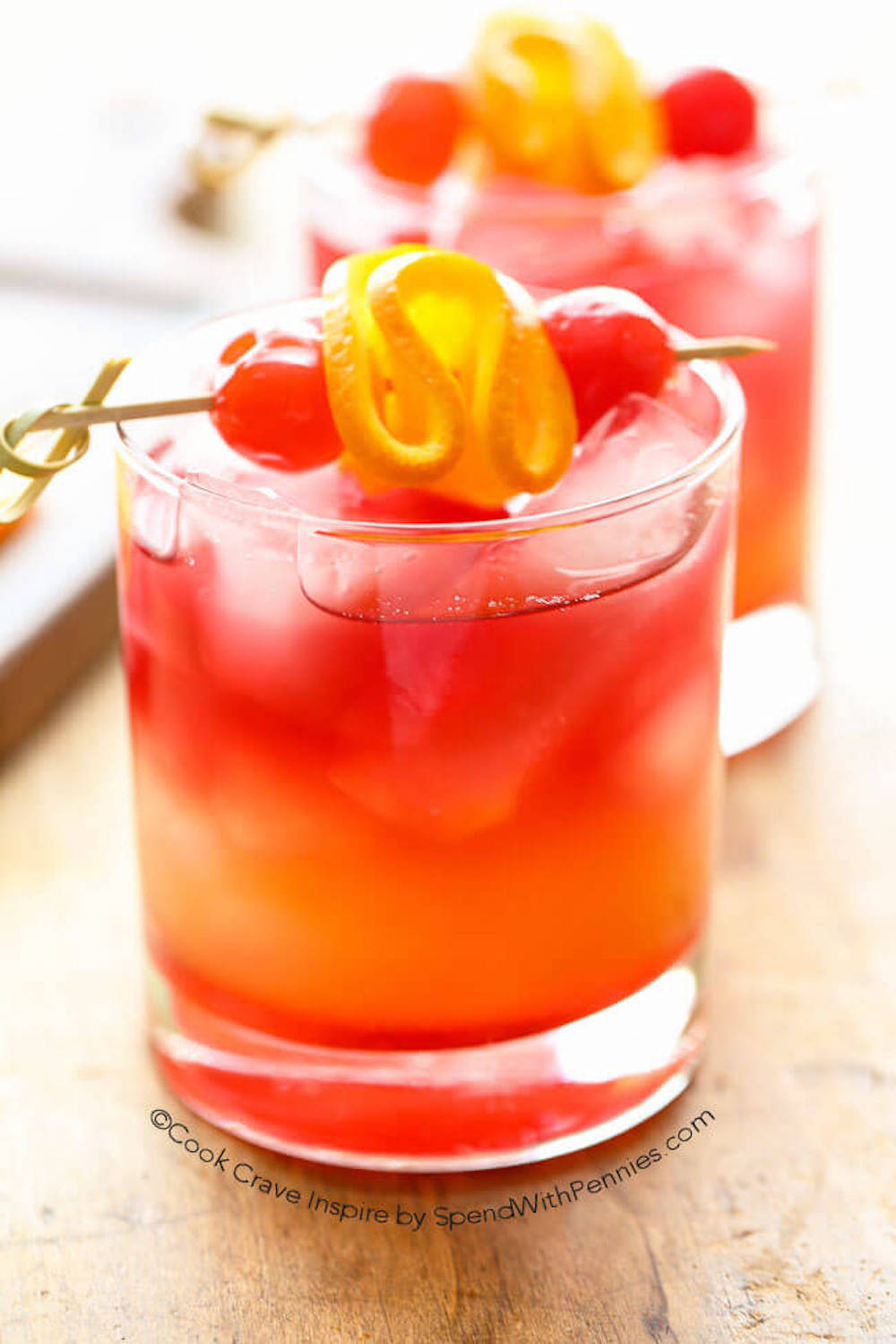 Ingredients:
2 oz pineapple juice
2 oz cranberry juice
1 oz of coconut malibu rum
splash of grenadine
Directions:
Combine all ingredients. Pour over ice and garnish with oranges, pineapple, and cherries.
Source:
Spendswithpennies.com
Blueberry Mojito Mocktail
Ingredients:
1 cup of fresh blueberries
A handful of mint leaves
2 teaspoons of sugar
juice of 2 limes
club soda
crushed ice
Directions:
First, puree blueberries in blender, and set aside. In cocktail shaker, muddle leaves and sugar. Add the lime juice and pureed blueberries. Shake well. Pour mixture into two tall glasses. Fill glasses with crushed ice. Top with club soda and stir. Lastly, garnish with lime wedge, blueberries, and mint spring.
Source:
TheMerryThought.com
Rosemary Blueberry Smash Mocktail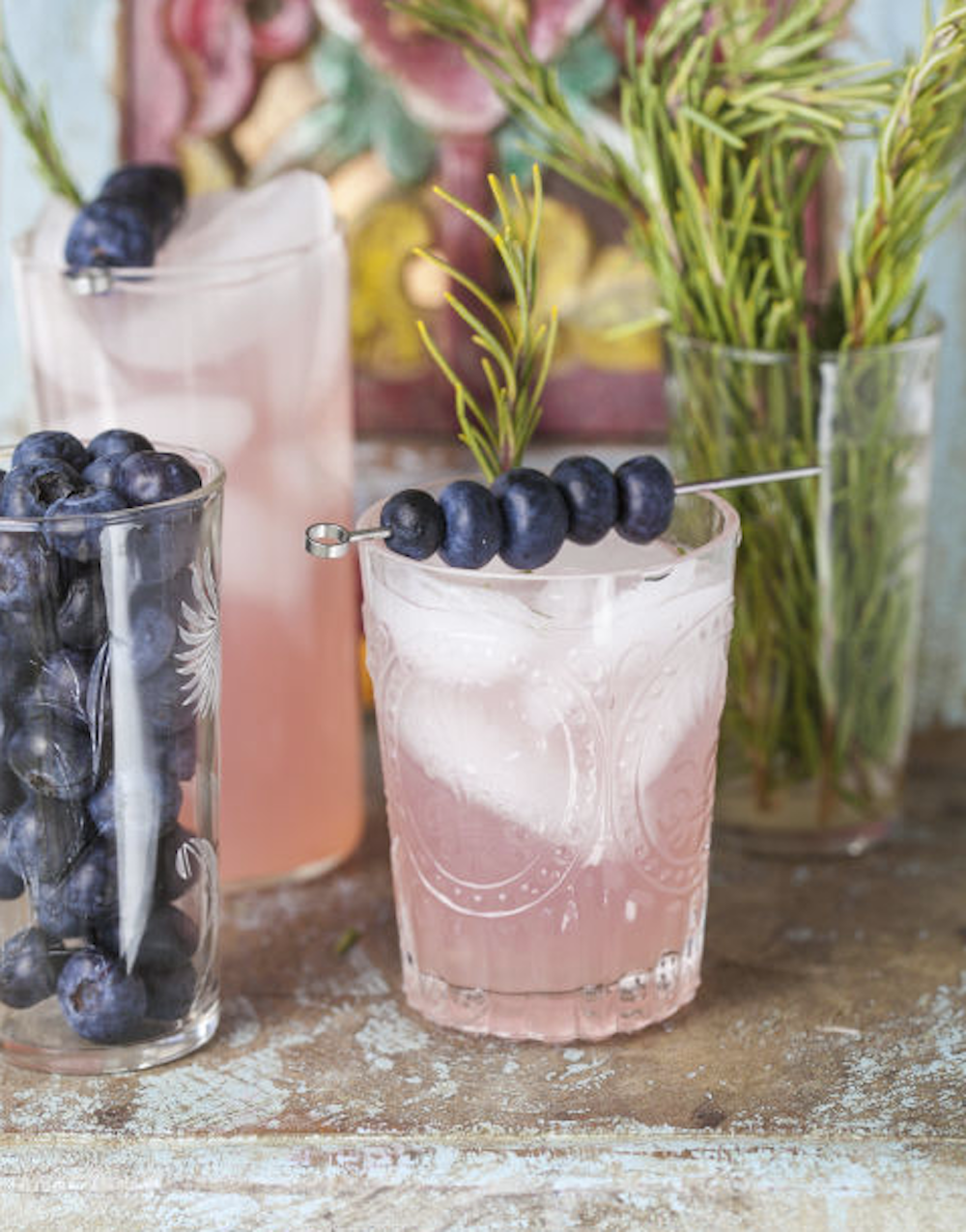 Ingredients:
8 blueberries
1 rosemary spring, stripped
1 oz honey syrup
1 oz of fresh lemon juice, strained
4 oz of sparkling water
Directions:
First, gently muddle blueberries, rosemary leaves, and honey syrup in bottom of cocktail shaker. Add lemon juice and shake, covered with ice fast for ten seconds. Strain through a mesh strainer into a tall glass of fresh ice. Top with sparkling water.
Source:
Townandcountrymag.com
Pineapple Cobbler Mocktail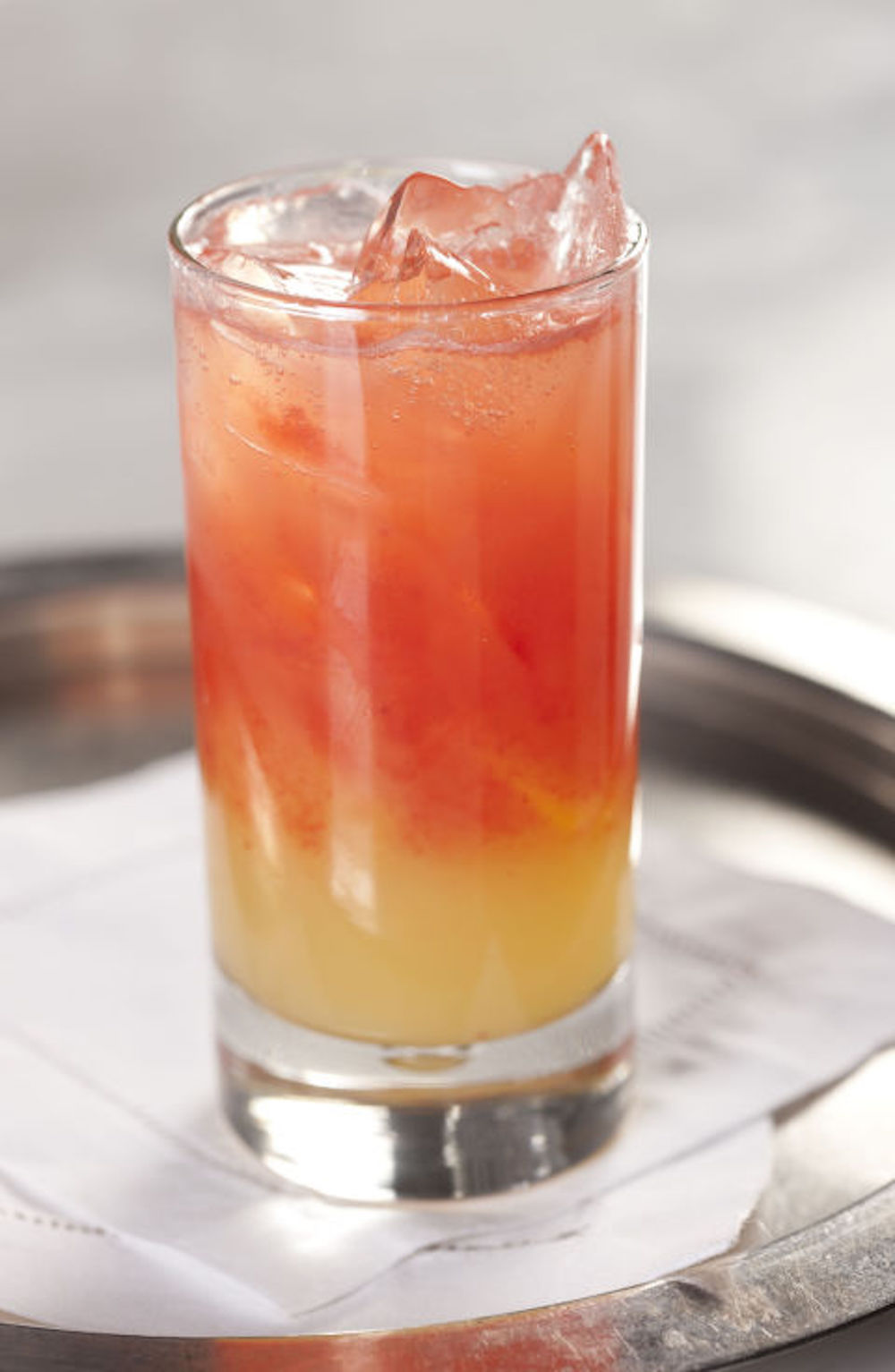 Ingredients:
1 oz strawberry juice
0.5 oz of lime juice
3 oz pineapple juice
club soda
Directions:
In a mixing tin, combine the lime and pineapple juice. Shake well. Strain the contents into a highball glass over clean ice. Top with club soda and float the strawberry juice on top. Lastly, garnish with strawberry.
Source:
Townandcountrymag.com
Blood Orange Margarita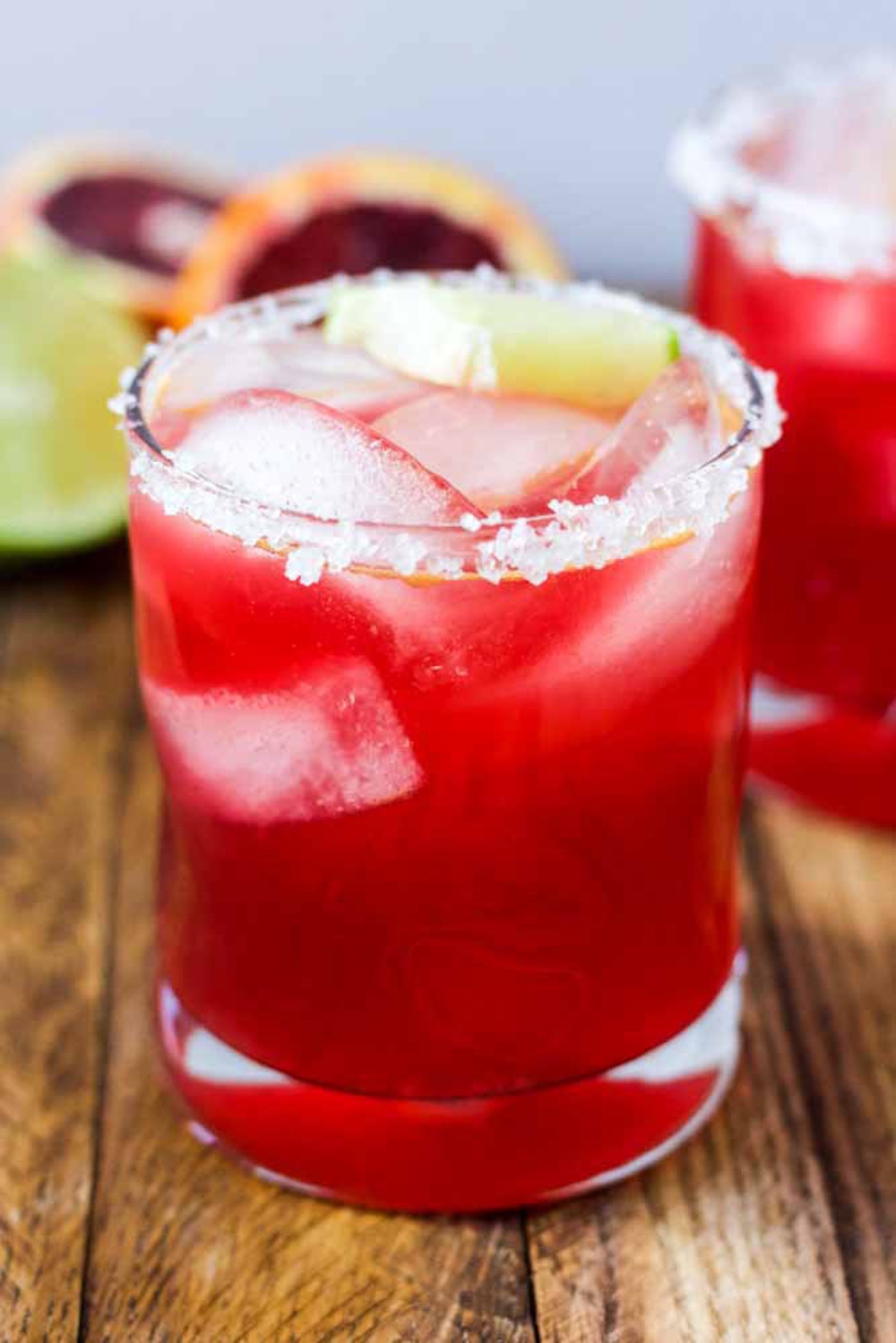 Ingredients for Blood Orange Syrup:
1 cup sugar
1 cup water
1 cup blood orange juice
Ingredients for Blood Orange Margaritas:
1 1/2 cup of blood orange syrup
1/2 cup of freshly squeezed lime juice
16 ounces triple sec
16 ounces high quality tequila
garnishes: lime, salt, blood orange wedges
Directions:
Blood orange syrup: combine sugar, water, and blood orange juice over medium heat. Simmer for 10 minutes, stirring occasionally. Take off the burner and cool.
Blood orange margaritas: In a blender, add the blood orange syrup, lime juice, orange liquor, and tequila and mix until combined for 30 seconds. Then pour in a salt rimmed glass filled with ice. Lastly, garnish with lime wedges or blood oranges.
Source:
Bestandbites.com
Blueberry Pineapple Margaritas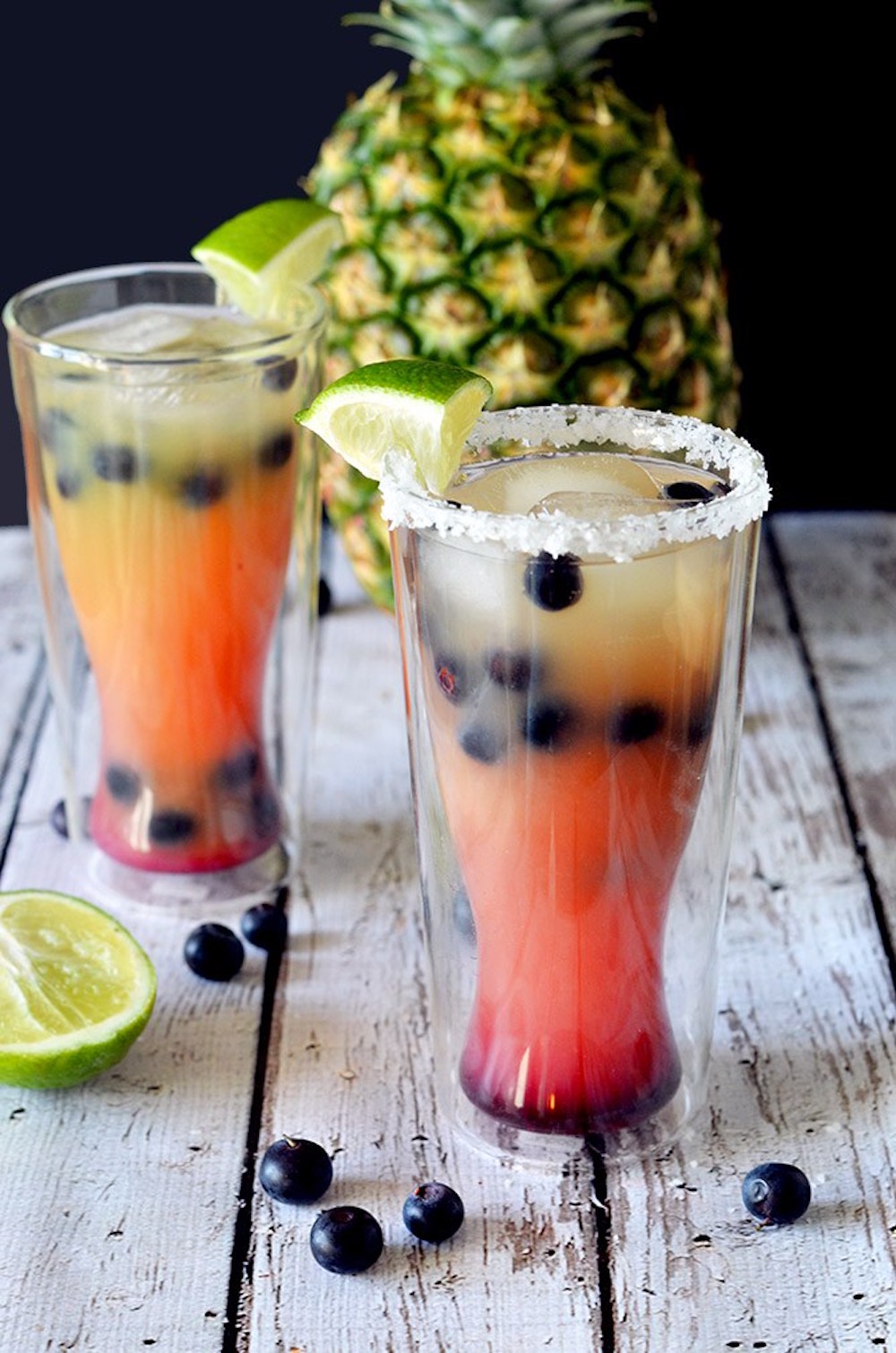 Ingredients for Blueberry Simple Syrup:
1/2 cup sugar
1 cup water
1 cup fresh blueberries plus more to garnish
Ingredients for Blueberry Simple Syrup:
3 cups pineapple juice
1 cup white tequila
3/4 cup freshly squeezed lime juice
1/2 to 1 cup of blueberry syrup
lime wedges of for of garnish
Directions:
To start, make the blueberry simple syrup. In a medium saucepan over medium heat, combine the sugar and water and stir until the sugar has completely dissolved. Add in the blueberries and bring the mixture to a boil. Reduce the heat to a simmer and continue to cook until the blueberries have let off their juices and are easily mashed with a spoon, about 5 minutes.

Strain out the solids and reserve the syrup. Refrigerate until cooled and ready to use.

Dip the rims of your glasses into the lime juice and then into the kosher salt, turning to coat. Set aside.

In a large pitcher, combine the pineapple juice, tequila, and remaining lime juice, and stir well to combine. Place blueberries and ice in each glass and fill ¾ of the glass with the pineapple mixture. Slowly pour 1-2 tablespoons of the blueberry simple syrup down the inside of each glass, allowing it to settle on the bottom slightly to create the gradient. Garnish with lime wedges and serve.
Source: Hostthetoast.com
Kiwi and White Wine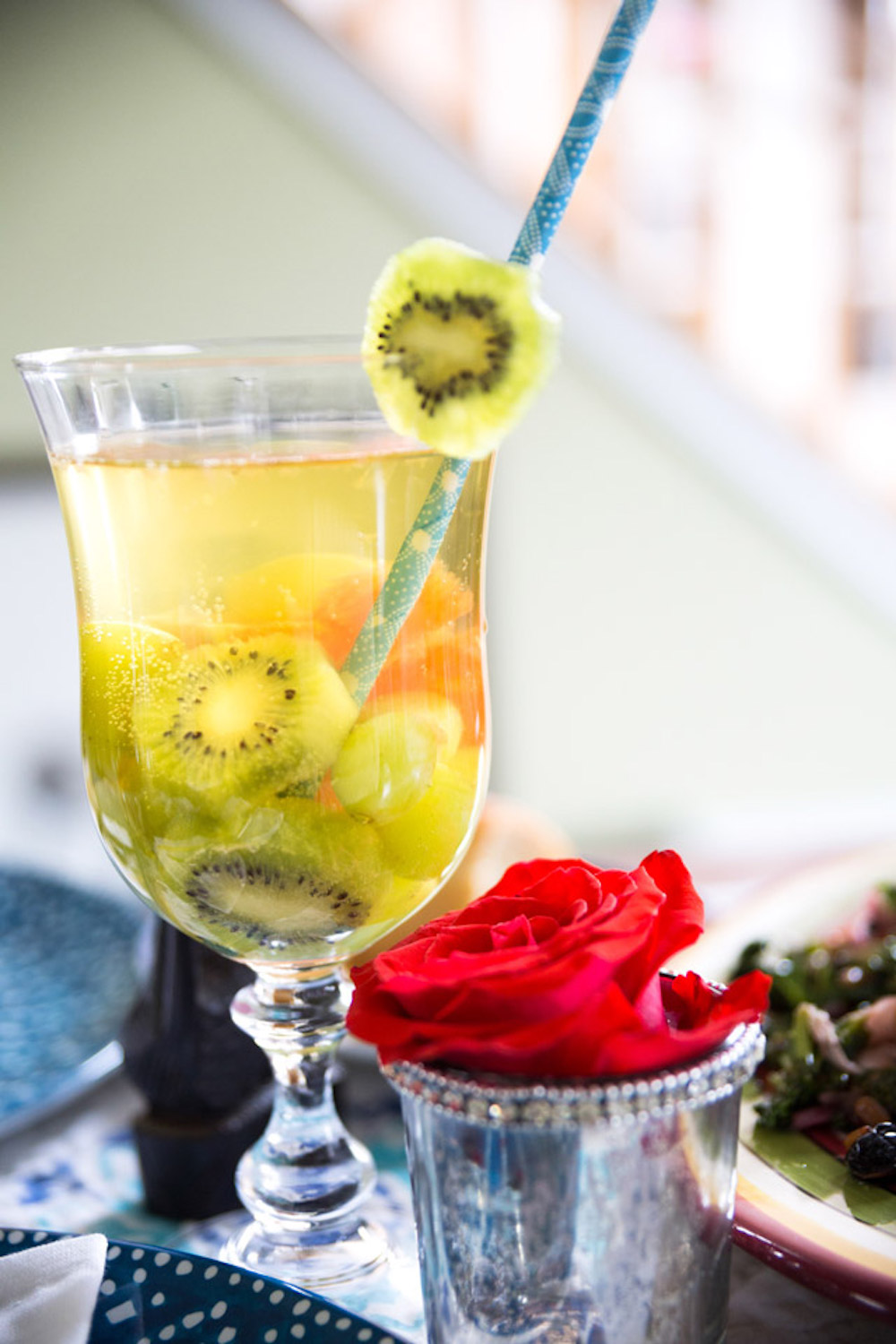 Ingredients:
1 Bottle (750 ml) of Chardonnay 2 Cups of Club Soda
1⁄3 Cup of Orange-Flavor Liqueur
2 Tablespoons of White Sugar
1 Cup of Seedless Green Grapes
2 Kiwis, Peeled and Sliced
1 Large Pear, Thinly Sliced
1 Honey Dew Melon, Peeled and Sliced
Instructions:
Mix the Chardonnay, Club Soda, Liqueur, and the Sugar in a Large Pitcher. Stir until sugar is dissolved. Add the fruit. Refrigerate (Preferably for 4 to 6 hours)
Source: Recipe by Howerton + Wooten Events, Photographer: Natarsha Wright Photography
Which one of these delicious mocktails and cocktails will you be drinking on Memorial Day Weekend?