Over the past few months, the world has come to a screeching halt as COVID-19, the mysterious and deadly virus responsible for the global pandemic, has transformed the way we live and do business. In the U.S. nearly every state has mandated for residents to shelter in place.
As we get used to our "new normal," creativity is at an all-time high, with restaurants crafting unique take-out menus, couples having virtual Zoom weddings, and parents finding innovative ways to celebrate special moments while in isolation.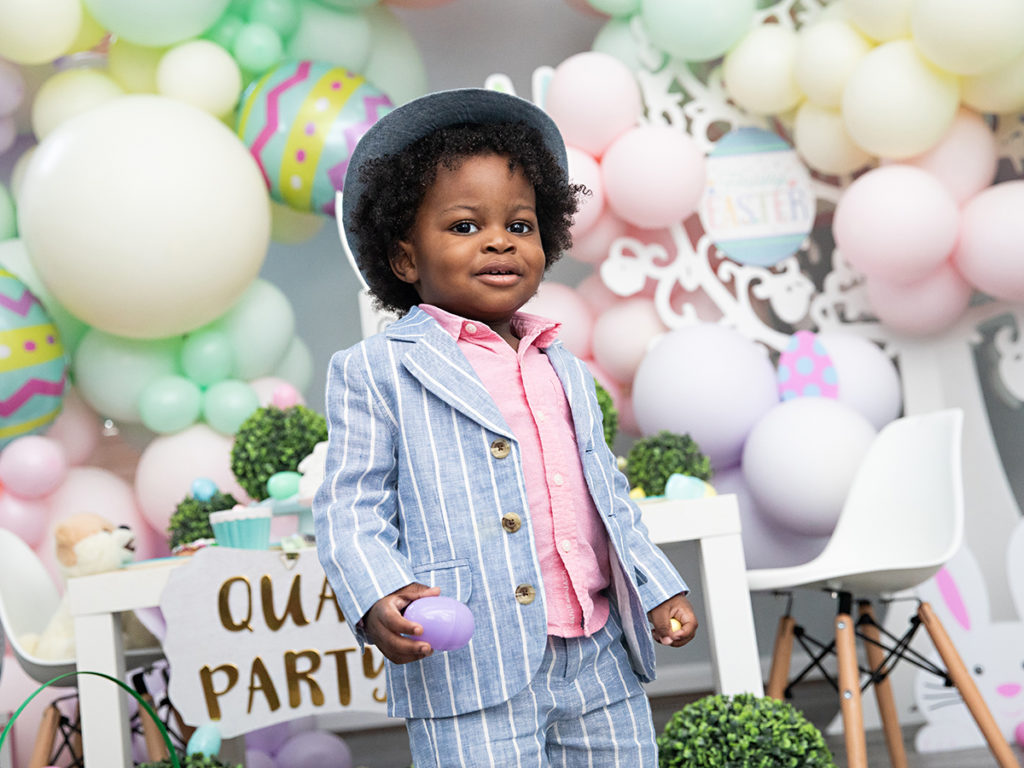 Before Rona turned our lives upside down, Diwura Ayodeji, an Event Designer and baker based in Maryland, was making plans for a family vacation during to Puerto Vallarta, Mexico.
Since we were not able to go anywhere for Easter due to the lockdown restrictions, we decided to make the best of it at home for our little 1 year old Ivan. I put the set up together in our living room. I already had majority of the items used at home, and I ordered a few additional items online. I (also the owner of Mon Delice @mon_delice) baked a small bunny cake to mark Easter. Hey, we were supposed to have been on vacation with the kids this week, but had to cancel due to COVID-19, so this was the least I could do. My husband took the pictures.

Diwura Ayodeji
Since social distancing restricts any social gatherings, she planned and designed the most adorable "Quarantine Party of Two" Easter celebration for Ivan. The decor was pastel-hued and included a cute easter bunny cake and Easter-inspired treats. It's dreamy! Take a look at these cute Easter party ideas.
How long did it take for you to design Ivan's party?
I thought of the idea last week Monday and ordered some items by Tuesday. So, I'd a little less than a week. It took about 3 hours to put the setup together.
What were the flavors in his adorable cake?
Vanilla
You would have been on vacation if it wasn't for COVID-19, where were you planning to go?
Puerto Vallarta, Mexico
Do you have other children? If so, what are their ages/genders?
Yes, 2 older boys. 12yrs and 9yrs
How have you been coping with this new normal of staying at home both as a mother and as an entrepreneur?
It's actually been a blessing in disguise. It's given us the opportunity to spend more quality time together as a family. I'm also using the time to do a lot of organization both at home and with my businesses. Homeschooling is going pretty well. I was a teacher for 11 years before becoming a full-time entrepreneur, so teaching is in my wheelhouse. My 9 yr old is currently in 4th grade and I taught 4th grade for 7 years, so I'm enjoying being his "teacher" lol. Our biggest challenges, however, are the uncertainties with our businesses. My husband and I are both entrepreneurs in the wedding and events industry, so a lot of our events have been postponed or canceled. We just don't know what the rest of the year holds for our businesses at this point.
Vendor Credits: