Debating whether you should throw a baby shower or not? This celebration will surely inspire and encourage you.
From Miami vibe decor to an amazing flowered food truck, this baby brunch celebration was full of elements that were beyond incredible, creative, lavish, and sweet. While this shower did not have a specific theme, Nikita Gibson, the Munamommy-to-Be to baby Kross, wanted various shades of pink. She also wanted to commemorate the Delta Sigma Theta Sorority, which she is a member of, by including an elephant which is one of their symbols. The elephant was in theme by being covered in beautiful pink flowers.  This lovely shower also featured phenomenal balloon details, a scrumptious menu, pink palm trees, a pink cabana, a violinist, a floral stroller, and even signature drinks! It was truly a memorable way to celebrate baby Kross with family and friends. We invite you to continue reading about the Gibson family's baby shower, as well as viewing the gallery below.
Munamommy: Nikita Gibson
MunaDaddy: Keith Gibson
Occupations: Nikita–Salon Owner of Manè Diva Co, Spa Owner of Joire's Spa & Studio, Keith-Correction Officer of DOC
Is this your first child or do you have other children? We have a two-year-old son named Kyrie.
How has your pregnancy been? Difficult and slightly scary, but I'm super blessed to have gotten this far.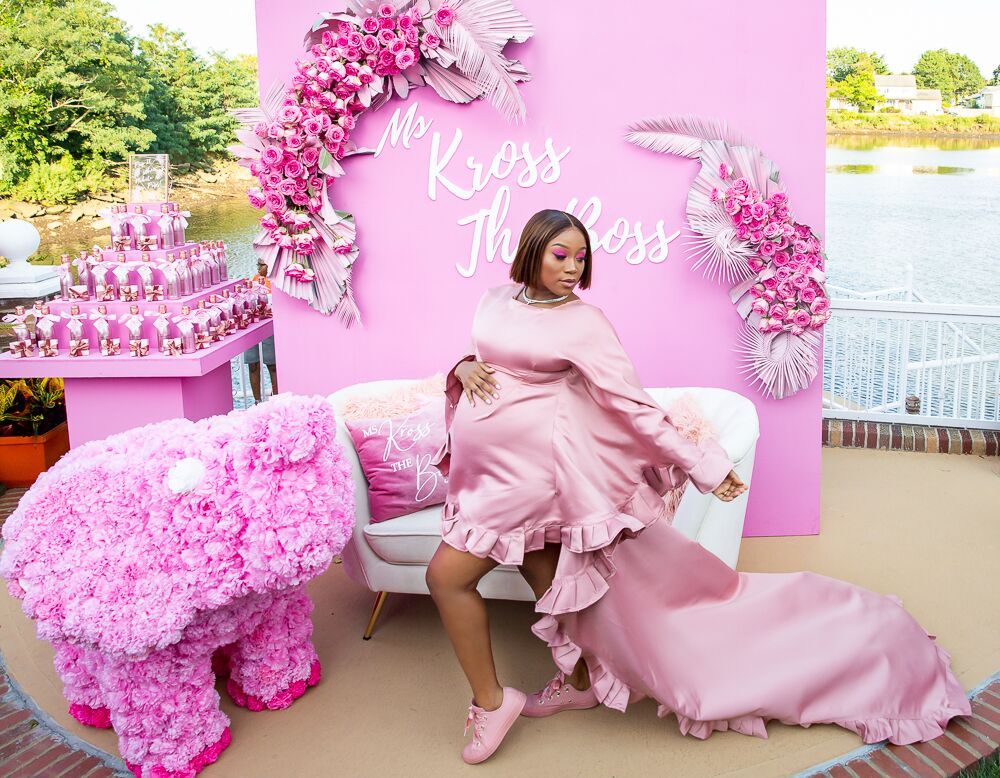 Date of Party: August 3, 2019
Venue: Rosedale, Queens (A friend's backyard)
What was the theme for the party? On the invitation, it said, "You've been invited to our 'Classy Chic Gala X Sneakers'." It was a Brunch Shower and Pink Gala Attire. There was actually no specific theme. I wanted different shades of pink and a lot of flowers. Miami vibes! Everything I loved (palm trees, cabanas, chandeliers, etc). I wanted to create an experience for our friends and family as we celebrate our baby girl! I wanted everyone to enjoy both the atmosphere and food.  I fell in love with the idea of having a flowered food truck to serve food. I am a member of Delta Sigma Theta Sorority, INC and the elephant is one of our symbols. It was important to me to have an elephant's presence for my baby girl! The elephant symbolizes strength and determination. The uplifted trunk represents high goals. The right foot forward represents forward movement. Baby Kross is the first girl on her father's side in centuries, so in a way, she is ushering in the start of something new, forward movement. Even though we had some hard moments during this pregnancy it was important to celebrate this moment and my baby girl! 
Please share the tasty menu! Mini Mexican Corn, Fruit Chow (Fruit Salad), Fried Chicken (With Spicy Honey), Sweet and Sour Fish Strips, Mac and Cheese Bites,  Palouree (this is a Trinidadian dish), Fish Cakes, Wings, Fried Shrimp, Chicken & Waffles. We also had signature drinks, including one called "Ms. Kross the Boss". 
Did the adults play any fun games/or activities at the baby shower? We love to party, we are far from a traditional couple! There were no games, no activities, just dancing, eating a  lot of fun! We literally had a baby shower baby brunch! The only thing we asked of our guest was to dress in gala chic attire but wearing pink and sneakers only!
What was the most memorable moment of the party? Seeing all of our guests dressed in beautiful attire, enjoying the vibes we created for them!
Nikita Gibson wanted to use all of the people she knew in the industry as a way to support and showcase their talent! All the vendors are listed below.
Planner & Designer: PEP entertainment
Photographer: Photography by Sena 
Drapes: Perez Event Rentals 
Custom Palms and Day Beds: Evolution Event Rentals
Stroller Florals: Arj Signature Design & Event Planning, Inc.
Pillows: Party Presentation
Decor Photographer: Daniel Serrette
Elephant: Shannon Florist 
Violinist: Priya DeBerry 
Videographer: Mike Saunders 
Catering: Picky Eaters Catering 
Dress Altered and Hemmed: Karzanyc