Maternity photography sessions have become an emerging and popular trend for expected mothers. For many of us, our moms did not have a maternity shoot. It is often a regret that many mothers wish they would have done. Maternity shoots are great for capturing memories, you can be creative, it is a chance to bond with your partner, and it is a wonderful reminder of your strength with carrying your baby/babies. It is a beautiful way to celebrate your pregnancy.
We are excited to share Kelli and Terrence Webb's maternity session. During Kelli's first pregnancy, she sadly lost her baby. Years later she was triply blessed to become pregnant with three rainbow babies. Rainbow babies are those born to couples who have experienced a previous loss. Rainbows are a symbol of light and beauty after a storm. Kelli looked radiant and gorgeous carrying her three daughters in her African-inspired shoot. We invite you to continue reading about the Webb family's miracle story, as well as viewing the gallery below.
Munamommy: Kelli Webb
MunaDaddy: Terrence Webb
Occupations: Kelli-Founder & CEO of The KBD Group – a PR and Marketing Agency based in Norfolk VA; Terrence-Longshoreman.
What was it like when you found out you were having triplets? It was surreal.  I literally thought it was a joke. We learned very early on that we were having twins. We did IVF, but because of my health and age, the doctor recommended transferring only one embryo, which we did.  We were not surprised to learn that the embryo split because we knew there was a slight chance -not to mention that multiples run in my family.  My dad is a twin, his younger sister has three sets of twins and one of her daughters has a set of triplets.  Moreover, several of my first cousins also have twins!  However, during our appointment, we were told that they saw a shadow of something that looked like another sack.  I said, "Is that even possible?" They said yes, but very unlikely. They told me to put that out of my head – "You're having twins Mrs. Webb".  It is very unlikely that there is another baby."  When my husband and I walked to the car, he said adamantly "It's another baby. I just feel it." I said, "No it's not, they said it's probably nothing."  He said, "Well what is it then?" I replied, "An angel or the Holy Spirit watching over the babies, but it's NOT another baby!"  We shared a laugh and moved beyond that. At our next appointment, our Nurse Practitioner said, "Yes, I was right.  There is a third heartbeat." And here we are, parenting three beautiful, healthy baby girls!
How was your pregnancy? Did you have any favorite moments? Did you have any difficult moments?  The first couple of months of my pregnancy were extremely difficult.  We had a few scares and I was extremely sick but pushed through.  Simple tasks were difficult including showering, brushing my teeth (it made me so sick), and climbing stairs (even early on because of the pressure). I was actually on bed rest for the first three months.  By the fourth month, I started to feel much better and began to enjoy my pregnancy.  I loved to feel the movement and see my body change and stretch.  I felt beautiful and powerful, but somedays I felt the exact opposite. Some of my favorite moments were sharing the news with our family and friends, hearing their heartbeats for the first time, seeing them move during ultrasounds, and watching my husband watch me in such amazement.  That felt wonderful.  I also enjoyed my belly casting.  It's a reminder that I did carry these three little miracle babies.  Learning the gender of our babies was also special, and sharing the news at our baby shower with family and close friends was magical. I will cherish those moments forever.
If this is not your first pregnancy, tell us if this pregnancy has been different than the others. This isn't my first pregnancy.  We lost a baby in 2009.  I experienced no morning sickness early on unlike this pregnancy where it seemed to happen within the first few weeks.  However, to have three rainbow babies to love on makes it all worth it!
Many Munamommy's-to-be experience crazy cravings! Did you experience any cravings? No "crazy" cravings.  I craved fruit, eggs, yogurt, olives, and veggie burgers.  However, I had food aversions to anything sweet.  I could only tolerate ice cream in the very beginning – then anything sweet made me nauseous.
What was the inspiration for your maternity shoot? The inspiration came from our photographer, Keith Cephus.  We were going to do a standard shoot, and he had an idea to go with an African-inspired theme.  We did and we loved it! It felt natural, beautiful, and super unique.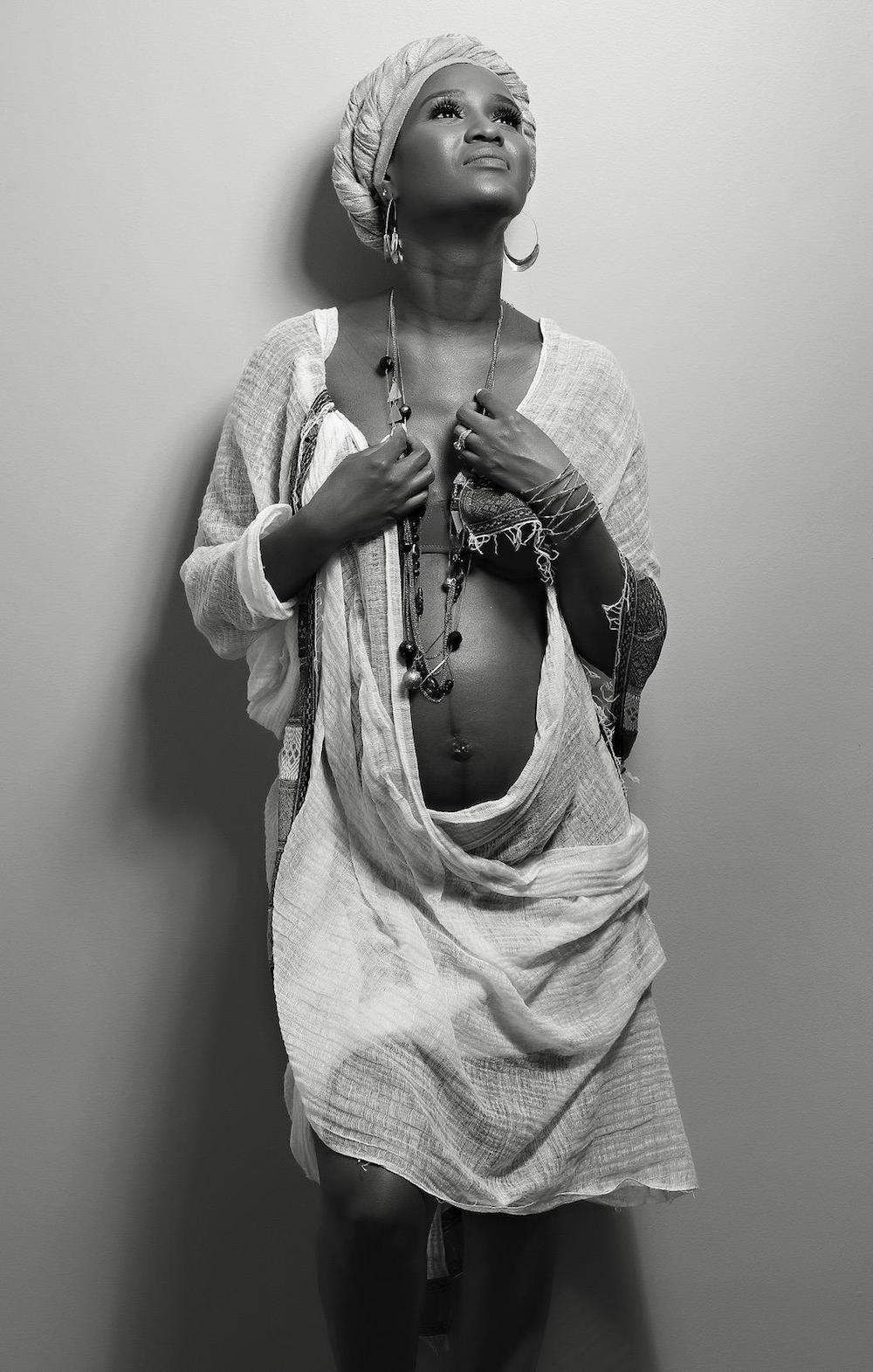 What aspect of motherhood did you look forward to the most? Just having the opportunity to experience the world through the lens of my children – seeing how they will develop and what contributions they will make on the world.  I look forward to sharing family traditions with them that were passed down from my mother.  Further, I really anticipate building a strong mother/daughter relationship with my girls that I shared with my mother.
What is your advice for expecting mothers/parents?  Enjoy every moment because it goes super fast. Take plenty of photos.  Be grateful for the aches, pains, and morning sickness because the reward is so beautiful. Don't compare yourself to other mothers or expecting mothers, and do not allow their experiences to create anxiety or fear. Remain prayerful and listen to your body.  I read a book called Praying Through Your Pregnancy by Carolyn Warren and Jennifer Polimino.  I would highly recommend it to all expecting mothers.
Vendors
Venue: Norfolk Botanical Gardens