It is hard to believe summer is over, and the start of the new school year is already here. Preparing for back-to-school can be stressful and chaotic. Whether it's shopping for new stylish school outfits, new shoes, new book bags and lunch boxes, lunch to go into the lunch boxes, a never-ending list of school supplies, electronics, and so much. We know that once school is over for the day, most kids come running in the door ravenous. Every single day, like clockwork. One of my favorite snacks I use to love to eat and make after school was a mini grilled cheese sandwich in the grilled cheese maker, where the cheese would ooze out on the sides. Delicious!
Are you looking for the perfect pick me up and quick fix for afternoon snacks for your family? The recipes below are for every kid, whether they have a taste for something sweet or savory. We set out to find 10 quick, healthy, and delicious afternoon recipes that your children will love and can make at home. Additionally, these snacks are kid and teen approved! Please note that you can swap out certain ingredients depending on your preference.
Loaded Oatmeal Cookies (Gluten-Free)
Recipe: Mile High Mitts 
Baked Popcorn Chicken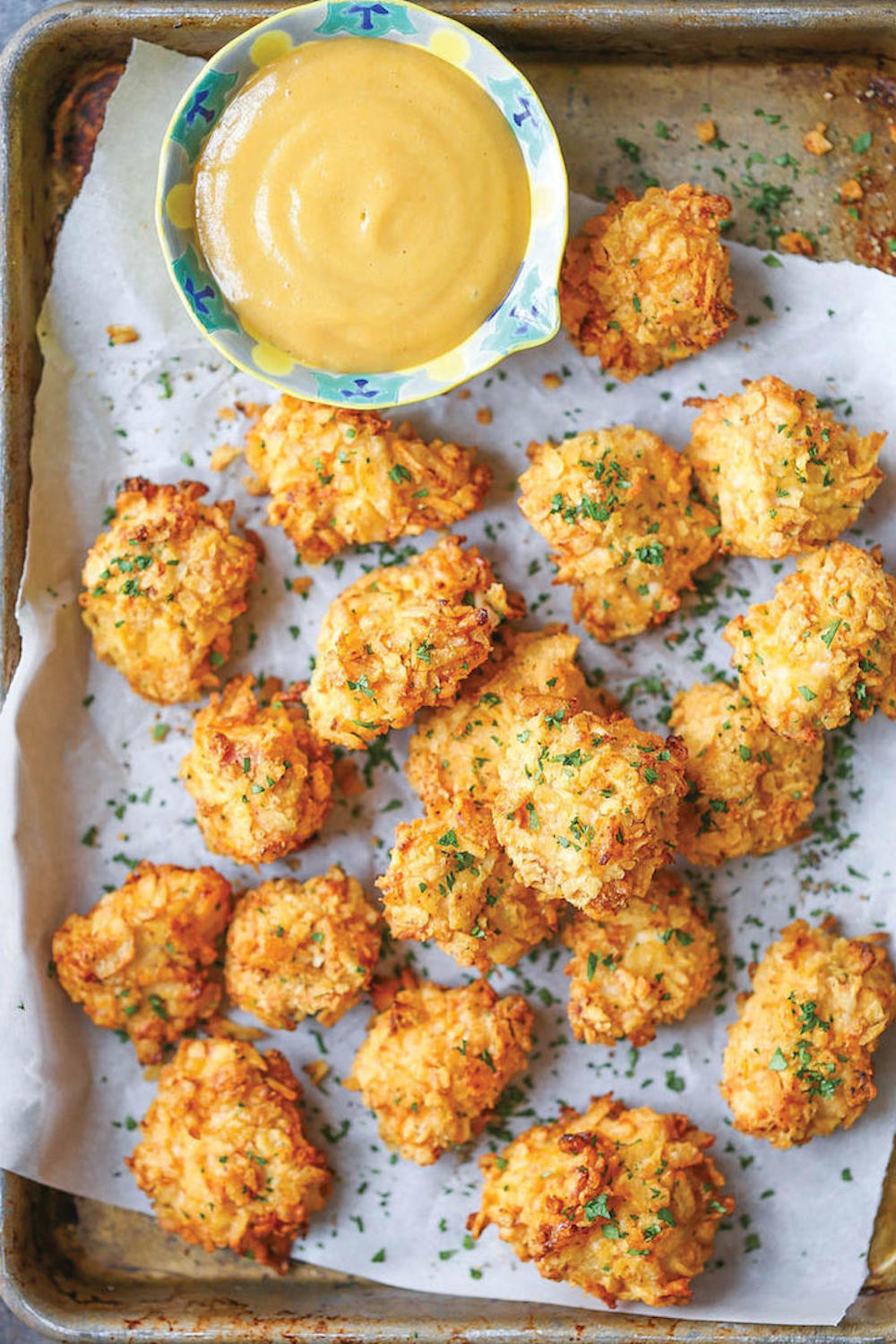 Recipe: Damn Delicious 
Critter Crudites
Recipe: Good Housekeeping / Photographer: Steven Giralt
Owl and Rainbow Smoothie
Recipe: Fork and Beans 
Rainbow Skewer Swords with Thick Greek Yogurt
Recipe: Hello Fresh 
Apples with Peanut Butter Dip
Recipe: Love Grows Wild 
Homemade Fruit Roll-Ups
Recipe: The Best Ideas for Kids 
Grilled Cheese Roll-Ups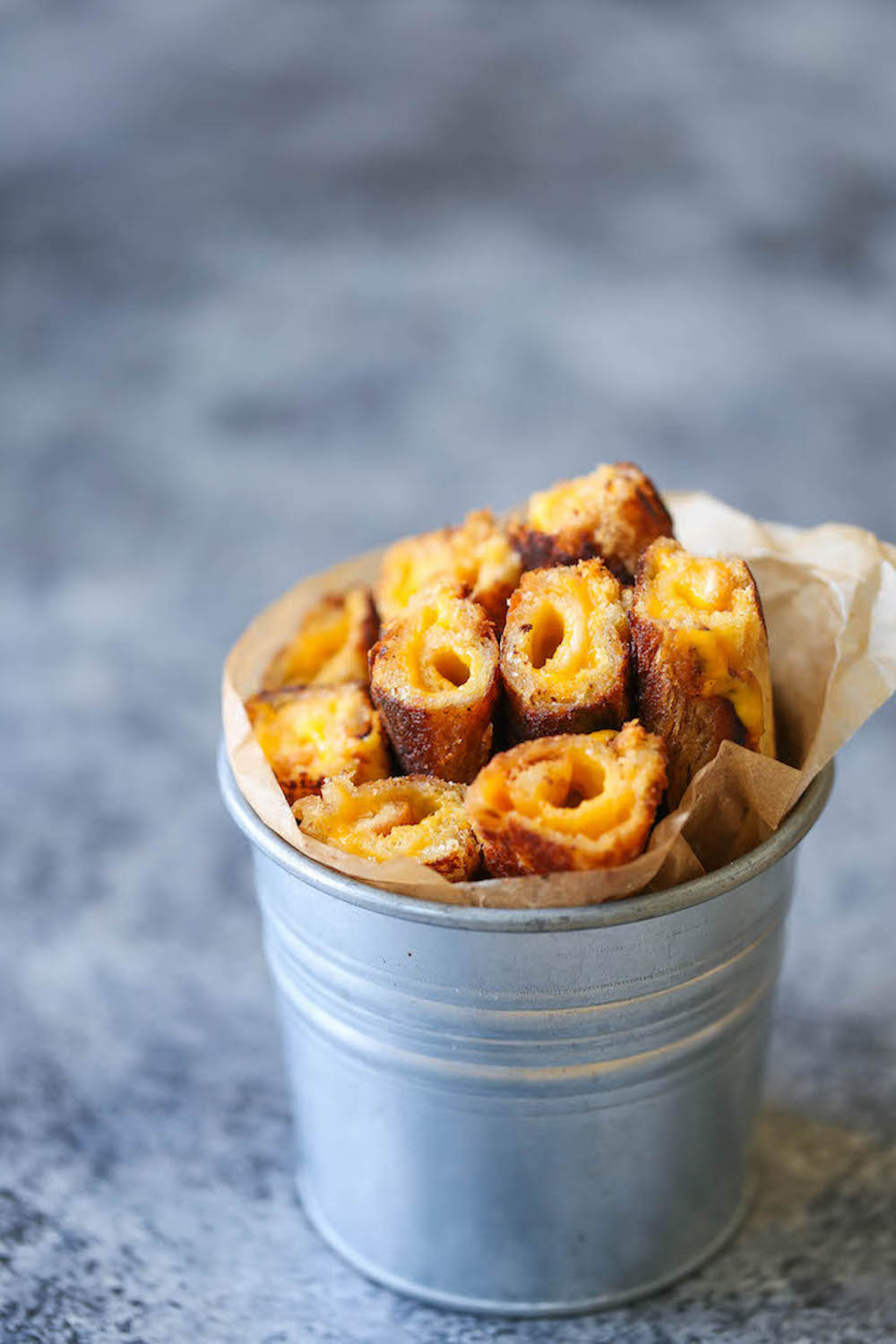 Recipe: Damn Delicious 
Banana Sushi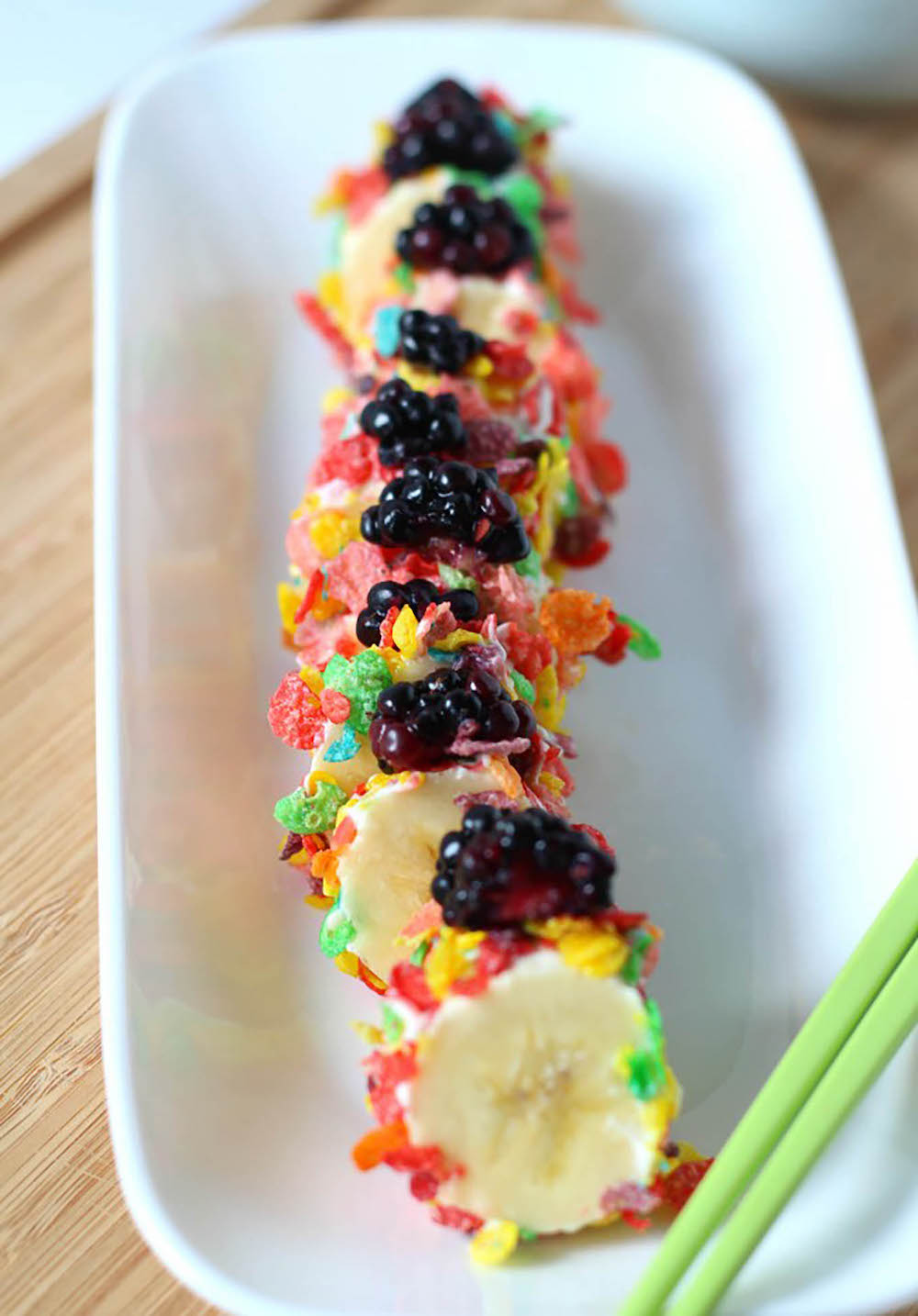 Recipe: Hello Fashion Blog 
"Guacadile" Dip
Recipe: Fork and Beans
Which one of these snacks do you want to make first?
Butterflies are my favorite. They symbolize resurrection, transformation, change, and hope. I'm a healthy-eating enthusiast and organic food encourager. You can make healthy food taste delicious! I love being eco-friendly and being a fitness junkie. Some of my favorite activities are practicing yoga, writing, blogging, cooking, and shopping (duh, haha) 💕I love you Jesus
Related posts
As we all know, breakfast is the most important meal of the day. Are you constantly trying to decide what to cook for breakfast for your family? Deciding on what to prepare can be difficult; whether your daughter has gluten-sensitivity, your son is lactose intolerant, your husband is tired of scrambled eggs and bacon, or you are all out of ideas. It is important to start each day with a nutritious meal. We hope these five delicious breakfast recipes encourage you to put on your chef's hat and apron and have you whipping up breakfast first thing tomorrow morning! Please note that you can swap out certain ingredients depending on your preference.
Apple & Banana Peanut Butter Breakfast Cups
Ingredients:
2 Tbsp ground flaxseed
3 cups old-fashioned oats (gluten-free)
1 cup mashed banana (about 3 bananas)
1 apple
1/2 cup apple sauce
1/2 cup plant milk (I personally use pea milk, soy, or almond)
1/2 cup peanut butter
1/4 cup maple syrup
1 tsp vanilla extract
1 tsp cinnamon
Directions:
1. Prepare flax eggs by mixing the flaxseed with 6 tbsp of water. Let sit for 5 minutes to gel up.
2. Preheat oven to 375°F  and line or oil your muffin tin.
3. In a large bowl, mix apple sauce, mashed banana, plant milk, maple syrup, and vanilla together. Then add the flax eggs and peanut butter, and blend.
4. To that, mix in the oats and cinnamon and stir to fully combine.
5. Lastly, fold in the chopped apple and mix-ins (reserve some for topping).
6. Spoon enough batter into the muffin cups to fill completely. Gently press any remaining toppings into the top of the muffins before baking.
7. Bake for 20-25 minutes, until the muffins are set and edges are golden brown.
8. Let cool for 5 minutes, then run a knife around the edge of the cups to loosen, and enjoy while warm!
*If you're not a fan of bananas you can swap out the bananas for sweet potato puree, with a splash of maple syrup.
Source: Pick Up Limes
Peanut Butter & Jelly Smoothie Bowl
Ingredients:
2 cups plant-based milk (I personally used Ripple's Pea Milk)
2 frozen bananas*
10 medium strawberries, fresh or frozen
3 Tbsp peanut butter
Optional Ingredients for Topping:
Fresh raspberries and blueberries
Pumpkin seeds
Coconut flakes
Chia seeds
 Granola
Directions: 
Add all smoothie ingredients to a blender and blend until well combined.

Pour into a bowl, add desired toppings and enjoy!
Source: Pick Up Limes
Turkey & Egg Breakfast Casserole
Ingredients:
1 tablespoon Coconut Oil + more for coating the pan
1 lb Ground Turkey (I personally used Turkey Sausage, seasoned with Sage)
1/2 teaspoon Chili Powder
1/2 teaspoon Garlic Powder
12 Large Eggs
1 small Sweet Potato (peeled and sliced thin)
1 cup Baby Spinach
Salt & Pepper for Seasoning
Additional Toppings: Tomatoes (Diced Onions, Bell Peppers, Cheese)
Directions:
1. Preheat the oven to 375 degrees. Grease a 9 x 9 baking dish with Coconut Oil as well as heat the 1 tablespoon in a medium-sized skillet set to medium-high heat. Once the oil has melted add in the Ground Turkey and season with the Chili Powder, and Salt and Pepper (I instead used loose turkey sausage, seasoned with sage). Continue to cook the meat until it begins to brown.
2. While the turkey is cooking peel and slice your Sweet Potato. Make sure your slices are fairly thin because if they're too thick they won't be as tender. Line the bottom of the greased baking dish with the sliced potatoes. In a medium bowl beat the Eggs with a whisk and season with salt and pepper.
3. Top the potatoes with the turkey and then pour the eggs on top. Layer the Spinach on top of the eggs as well as any additional toppings you would like to add.
4. Place the dish in the oven and cook for 35 to 40 minutes or until the edges of the egg begin to brown and the casserole is firm throughout. Check the dish with about 5 minutes to go to see if you need to add any time.
Challah French Toast 
Ingredients:
6 large eggs
1 1/2 cups milk
1 teaspoon Orange Zest ( I skipped)
1 teaspoon vanilla extract
1 teaspoon pumpkin pie spice
1 tablespoon honey
1 loaf challah bread, sliced into 1-inch thick slices
 butter
 powdered sugar, for dusting
 maple syrup, for serving
Directions:
1. In a deep dish or bowl whisk the first 6 ingredients until combined.
2. Soak the bread slices in the egg mixture for 10 seconds on each side.
3. Heat a large sauté pan over medium heat and melt butter to coat the pan.
4. Place the soaked challah bread in the sauté pan and cook for 3 minutes on each side or until golden. Continue cooking the remaining bread.
5. Serve the challah with powdered sugar and maple syrup, as desired.
Source: Weelicious
Fluffy Blueberry Pancakes 
Ingredients: 
3/4 cup milk (I used plant-based milk)
2 tablespoons white vinegar
1 cup flour
2 tablespoons sugar
1 teaspoon baking powder
1/2 teaspoon baking soda
1/2 teaspoon salt
1 egg
2 tablespoons melted butter ( I used organic vegan butter, called Earth Balance)
1+ cup fresh blueberries
Directions: 
Mix the milk and vinegar and let it sit for a minute or two.
Whisk dry ingredients together.
Mix in the egg, milk, and melted butter.
Heat a griddle or skillet over medium heat. Melt a little smear of butter in the pan.
Pour about 1/3 cup of batter into the hot skillet and spread it flat-like (it will be pretty thick). Arrange a few blueberries on top. Cook until you see little bubbles on top and the edges starting to firm up. Flip and cook for another 1-2 minutes until the pancakes are cooked through.
Serve with butter and maple syrup. But honestly, sometimes I just like to eat these plain.
Source: Pinch of Yum
---
Which one of these recipes do you plan on making first?
Recent Posts