MunaLuchi Coterie member Reverend Roxanne Birchfield celebrates the beauty of pregnancy, the absolute joy of motherhood, spirituality, and more with husband, Joshua and daughter, Hunter in these endearing and adorable maternity and child portrait sessions. Owner of Married by Rev Roxy, Reverend Roxanne is a non-denominational Christian Chaplain and Marriage Officiant, wedding blogger and professional speaker. She has appeared on season 25 of CBS Survivor and other reality shows.
Read all about Reverend Roxanne's pregnancy and motherhood experiences below. Photography by Rolland Smith.
---
MunaMommy: Reverend Roxanne Birchfield
Occupation: Chaplain in the United States Army Reserves & Hospital, Adjunct Professor and Wedding Officiant.
MunaDaddy: Reverend Joshua Birchfield
Occupation: Full-time Pastor, Hospice Spiritual Counselor.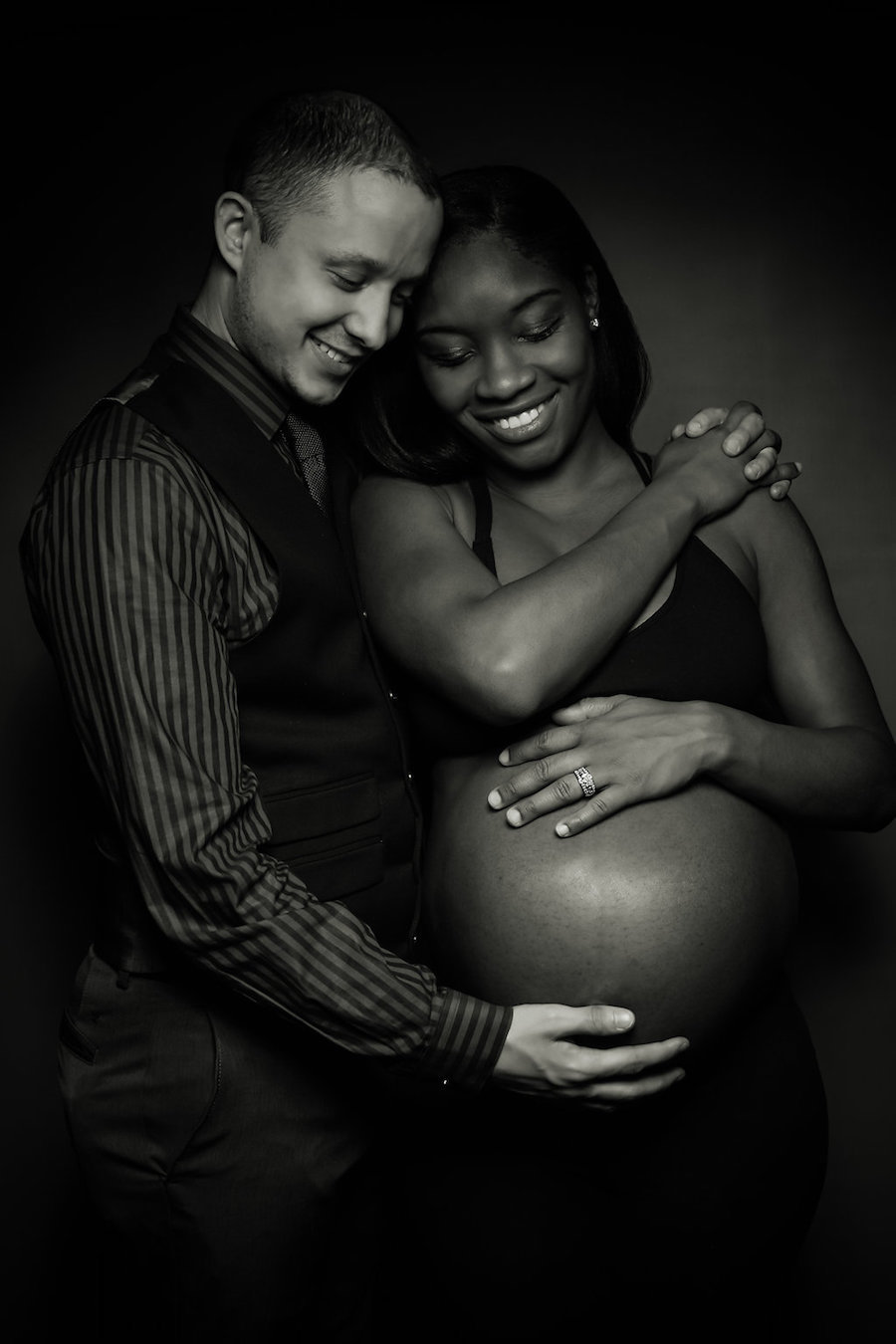 Is this your first child or do you have other children?
Hunter is our only child.
Boy or Girl?
Girl
How was your pregnancy experience?
My pregnancy was fairly easy. Labor was LABORIOUS! But I made it!
All mommy's-to-be experience those crazy cravings! What were your guilty pleasures?
Mac-n-cheese and MILK!
What was the inspiration for your maternity shoot? Did you have a theme?
MINIMALISM. Believe it or not, I am a minimalist-wanna-be. I am obsessed over the minimalist culture and am changing my family culture from being focused on materialistic things to focusing on making memories with people. With that said, I have found a great appreciation for photography. Photography is an art form that is imperative in the making-memories process. I wanted my photos to have a minimal look. Not much frills and a natural look. I wore all black and showed my stomach because that best showcased the nature of MY STORY in that moment in time and I did not want any "fancy" dress to take away from that.
During pregnancy what aspects of parenthood did you look forward to the most?
I looked forward to teaching my little girl about the "market place." When the doctor told me I was having a little girl I was so happy! I couldn't help but to think of one word, "legacy." During my years of being single and traveling the world I visited Ghana, West Africa. If there was one thing I learned about the market place, it was that the men of the families that own the businesses were very much present but the woman were very much in charge and running the show. As a third generation entrepreneur, this left a great impression on me. I thought it was an interesting cultural analysis. I saw so many women running the market place; strong and highly proficient women making it look so easy. When I reflect on what it means to have a little girl in today's political and economical climate I reflect on the images of these woman and the rich legacy they will leave behind.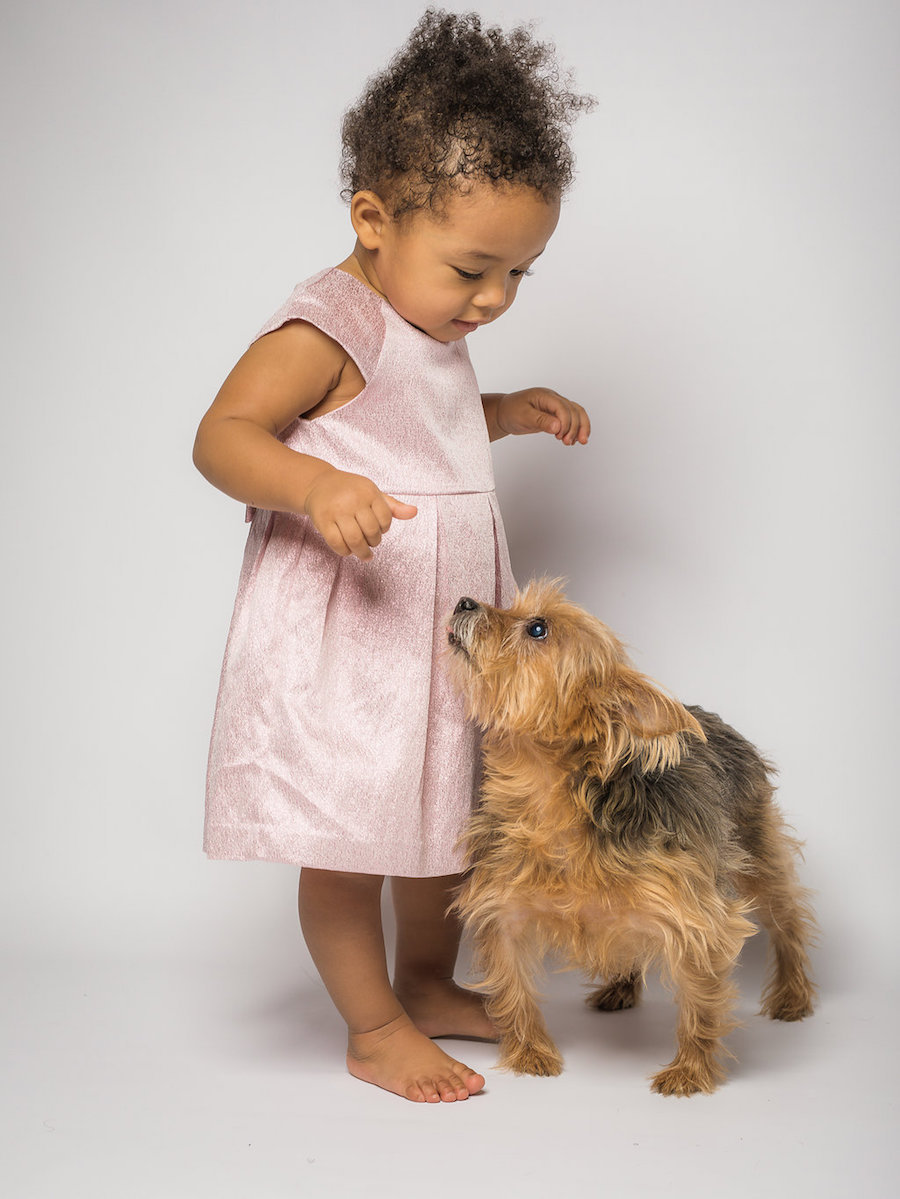 What is your advice for expecting mothers/parents?
Every day you should wake up and look in the mirror and know that you are already good enough. The work of being a parent doesn't come with a guide book. It is such a challenging job that even many great Biblical men made mistakes as parents. As a minister, I firmly believe that God doesn't give us the children we want in our lives, he gives us the children we need in our lives. God continues to shape and mold us as human agents through parenting like he does through marriage and other relationships.
---
Vendors:
Photographer – Rolland Smith
Married by Rev Roxy
Related posts
Family photo sessions are not what they used to be. Remember back in the day when your parents would take you to sears or whatever local photo studio and you would have to sit in front of that hideous backdrop and fake smile? These days, family photo sessions are more about capturing the family in their element. Well lit, well styled, and truly candid.
We shared a photo on our instagram a while ago that went viral.  It was liked over 11,000 times and received hundreds of shares on facebook. So it's only right that we interview the gorgeous family that has everyone in awe.  Meet the Stewarts, our first family featured on MunaMommy.
How did you meet? 
We actually met at the gym. People are often surprised, but we like to think we're just an example that a healthy lifestyle can pay off in more ways than one!
Tell us about the proposal.
My husband actually flew across the country to surprise me at home on Christmas Eve. All my family was in on it, and our tradition is opening gifts at midnight. His present was a pair of heels, and when I opened it he offered to help me try them on. Down on one knee he opened the box, and on one of the heels was a ring. He proposed and I was in tears. It was definitely my Cinderella moment!
When did you get married?
We got married in 2006 and we're celebrating our 10 year anniversary this July!
What is your occupation?
I am a stay at home mom and a fashion/lifestyle blogger.
What's an average day like in the life of the Stewart family?
An average day for the Stewart family starts with the kiddos waking up by 7am. Once they're up they spend some time playing with toys. Eventually we eat breakfast, the hubby is off to work and I head out with the kids for a walk around our neighborhood. Afterwards, the baby takes a nap and I get some one on one time with my big boy. We color, read, learn site words and numbers and before you know it it's lunch time. Naps for both come after lunch and I try to get some work done while they rest. When the kiddos wake up, we usually head into their nook to have snacks and read. Eventually  I leave while they play together and I start preparing dinner. Daddy comes home from work around 5pm, we eat together and then head to the park for some evening fun. We play with the soccer ball, or baseball or blow bubbles, we come back home for the kids bath time and then they're ready for bed. The hubby and I cap the night off by spending time together talking, watching a movie or even working.
How do you find a balance between family, work, and life?
We find balance between family, work and life by prioritizing family first and making the most of the time we have together. When it's time to work, we work hard. But we make room in our schedules for regular family time, we guard it jealously, and try to make the most of it. Trips to the zoo, local museums, eating good food or exploring the city.. When we capitalize on the time we have together, we've found that it helps to sustain us when life/work is busy and we're apart.
What is the key to successfully raising children?
I don't know about "the key" to successfully raising children, but unconditional love, patience and understanding are a great foundation. Treating each child as their own individual and adjusting your parenting style and approach to fit each temperament and personality is also really important. And to me, modeling the kind of values you want to instill in your children is the best way to teach child.
Do you have any tips/daily routines to share with other parents that you find has helped create a healthy balance or positive behaviors in your child's(or children's) life?
Stay positive. I'm constantly telling them how proud I am of them, and affirm positive behaviors which breed more positive behaviors. We've always spoken to the kids like they're older than they really are. So we've never done much baby talk. We explain for example why a negative behavior is negative even if they can't comprehend everything we're saying, and they usually surprise us with how much they do understand which leads to change in behavior/actions. Regarding tantrums, I've come to learn giving your child the opportunity to express their feelings and emotions really helps to minimize the length of the tantrum. Speaking with them at eye level and in a calm tone helps as well.
What are three things that parents can do to build a strong relationship with their children?
Three things that I would say parents can do to build strong relationships with their children are: 1) create one on one time with the child let them know how much they are loved through words and action 2) Be mindful of what you say and do around the children. They see and hear everything! Whether verbal or non-verbal, tone and inflection, they're observing you all the time and they take their cues from you. Earning and maintaining your child's respect and admiration is really important. 3) Finally, build trust. Be available, keep your promises and of course, never give up on them.
What is one of your favorite memories you share with your child/children?
One of my favorite memories with the kids was watching them take their first steps and their dependence on me to guide them and to see the confidence in their eyes grow with each step. It's such an anticipated moment and milestone that when it actually happens it's just beautiful.
Anything else you would like to share?
Children are a gift and so is the joy of parenting. Parenting can be demanding, exhausting, even frustrating at times, but it's also so much fun, life giving and gratifying. Children teach us about what's really important in life and remind us to never lose our childlike wonder as we live life and explore and experience all that it has to offer.
---
Thanks for sharing your family with us Vonette! Keep us with Vonette and her husband on instagram @vmarie401 and @tylerstewart12
If you'd like to have your family session featured, click here.