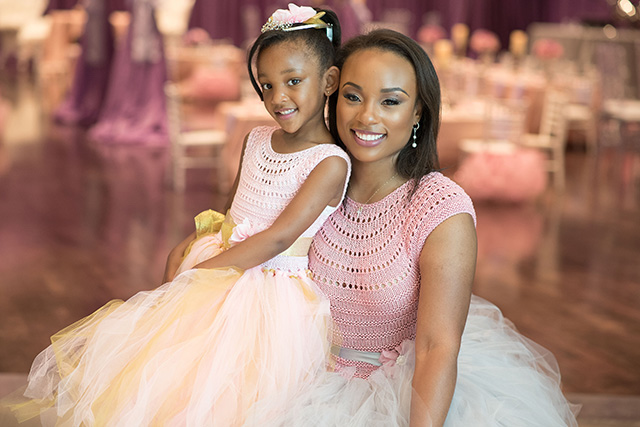 There are kids parties, then there's Myla's Wonderland of Fun party perfectly designed and planned by Tyron of
Wells Consulting Design Co.
based out of Tennessee.  Tyron didn't just plan a party for Myla, he created an experience that rivals some of the weddings we've seen.  There was no aspect of the princess party that was overlooked. From elaborate draping, to custom menus, to celebrity appearances, Princess Myla's party will go down as one of the prettiest we've seen to date.
From the designer, Tyron of Wells Consulting:
Princess Myla was turning five and her mother wanted to give her a party she would never forget. Being the little princess she is why not give her a party entitled "Myla's Wonderland of Fun". The design was totally inspired by concept. We wanted to create an experience that she was familiar with. As the guests arrived, the children were presented with bags that had princess costumes for the girls and knight costumes for the boys. While the children were mingling and waiting on Princess Myla, there were guest appearances by the most popular princesses. You could feel the excitement in the room! Finally Princess Myla arrived in her carriage escorted by her handsome brother Prince MJ and beautiful mother, Queen Jaunika Ellis!
Once Princess Myla arrived, all guests had an opportunity to have fun in the Wonderland of Fun that consisted of face painting, balloon station, build a bear station and photos with the princesses. So much excitement but it only gets better. Now it is time to enter the princess ballroom to partake in lunch. As the guests were led into the beautiful purple draped ballroom through the custom built castle front by the princesses, each guest was seated at a table where custom princess chargers were designed by Ten23Designs and blind menu cards by Lepenn Designs. The tables were draped with blush linens, lined with beautiful florals, confetti filled balloons and gorgeous tutus for the chairs. The princess table was the highlight of the party! Princess Myla was seated in a custom built plush purple princess chair and Prince MJ, who was seated next to her, tuxedo chair back was designed by Wildflower Linens.

The room was absolutely gorgeous! From the sequin linens to the beautiful florals BUT the day does not end there! After the serving of lunch and cutting of the cake, the guests were led into the theater for one more surprise. Princess Myla loves to dance, so why not have one of her favorite musical artists to appear. As the DJ begin playing "Hit the Quan", I Heart Memphis appeared from behind the curtain and the children went wild!  It was certainly a joy to see Princess Myla and her guest dance the day away. This is one party Princess Myla will never forget and I am truly honored and grateful that my team and I was allowed to be apart of this wonderful occasion."
Thanks for sharing your event with us Tyron and thanks to all the vendors involved.
Location – Halloran Centre for Performing Arts & Education – Memphis, Tennessee
Planner – Tyron Wells of Wells Consulting Design Company
Caterer – Donelson Catering Company
Draping – Curtain Call
Cake Designer – The Flour Garden
Entertainment/Princesses – Parties with Pizazz
Stationery/Invitations/Branding – LePenn Designs
Wood Artwork – Ten23Designs
Linens/Tutu Chairbacks – iDo Linens
Tuxedo Chairback – Wildflower Linens
Event Planner/Designer – Wells Consulting Design Company
Event Planner – Stacey Nickens
Rentals – Studio1524 – White Door Events and Classic Party Rentals
Photography:  April Tolbert | April Tolbert Photography 
Related posts
A little gentleman is on the way.  So what better way to celebrate Tyler's arrival than with an adorably themed shower.  The shower's planner and designer, Elle's Couture Events, derived dapper details from the concept of being a little gentlemen and included lots of bow-ties and buttons to showcase the theme.  This sweet shower also featured cute teddy bear center pieces, framed quotes and even a signature drink – "Bow-Tie Bubbly", too cute! And of course, every shower must have games – this shower featured three cutely themed games that you can grab inspiration from when creating your baby shower itinerary.  Read on for more details from this charming Bow Ties & Button themed celebration.
Theme: Bow Ties & Buttons (Little Gentlemen)
Unique Design Ideas: All of the design ideas where derived from being a little gentlemen and bow-ties and buttons
Color scheme:

Mint Green, Burnt Orange, Yellow & White

Favors:

Picture frames of the mommy to be's pregnancy photos

Centerpieces:

Flowers, Teddy Bears wearing bow-tie onsies and framed quotes about how to be a gentlemen

napkins were tied as bow ties and the linens were buttons and chevron to match the invitation/stationary

Wishing Tree:

Wising tree tags were green and included hello mustaches

Dessert Table & Cake:

bow tie cookies, button cupcakes, bow tie cake pops, chocolate covered strawberries and the cake was a brief case

Signature Drink:

Bow- Tie Bubbly (Bartenders also wore mint green bow-ties!)

Mommy to be section:

The MTB was set up to mirror a nursery. The MYB sat in a ivory club chair, crib filled with baby gifts, night stand with chevron lap, picture of her pregnancy photo, teddy bears, and chevron pillows.

Instagram station:

Included props and the hashtag #BabyTyler
Games:
Purse Game:

Whoever has the most items in their purse wins

Baby Bottle:

Who can drink the juice the fastest out of the baby bottle

Fake Being Pregnant:

We picked three guys to fake being pregnant. Each guy had to have laced shoes/sneakers which had to be removed. They then had to put a large pillow under their shirts and have a seat in a chair. Once seated the men were required to put back on their shoes/laces and tie them. Whoever did this the fastest without crushing the pillow (baby) won.
Vendors:
Event Planner & Designer: Elle's Couture Events
Stationery: E- Three Designs
Desserts: Elle's Pastry Boutique
Venue: Brooklyn Party Space
Photographer: Yanqi Chang Photography
Linens: The Finishing Touch NY
Recent Posts