Everyone wants their own space in a home. Whether its a dad who wants a man cave, a teenager who wants the basement to play video games, a mom who wants the office to get work done peacefully, or  a toddler who needs a playroom to play with his or her toys and puzzles. Playgrounds and treehouses are fun and entertaining places where kids can run around, explore, move, and play. It's the one area at the house that they get to rule! With summer quickly approaching, we've rounded up 10 great playgrounds and treehouses that will turn your backyard into a fun area for your kids!
We would love for you to share which one of these playgrounds and treehouses is your child's favorite!
Butterflies are my favorite. They symbolize resurrection, transformation, change, and hope. I'm a healthy-eating enthusiast and organic food encourager. You can make healthy food taste delicious! I love being eco-friendly and being a fitness junkie. Some of my favorite activities are practicing yoga, writing, blogging, cooking, and shopping (duh, haha) 💕I love you Jesus
Related posts
It's here! It's finally here:). And I couldn't be happier to share this much anticipated and happy place we call the MunaMommy blog.  Just like entrepreneurship, motherhood comes with it's up and downs, it's high and it's lows. But at the end of the ever busy day, it's the one thing that keep us going.  I welcome you to our newest extension of the Munaluchi Brand.
At MunaMommy you can expect to see well curated maternity shoots, newborn sessions, and family shoots. We'll also showcase the most creative kids parties and celebrations. And we'll provide motherhood advice and featured articles with moms that inspire you.  You'll also be able to source vendors in our coterieToo directory.  Take a scroll around our new blog, and tell me what you think in the comments. I look forward to building this community with you!
xoxo
Jackie Nwobu
photo by Creative Soul Photo
Tune in to the blog tomorrow to see more from this shoot
Family photo sessions are not what they used to be. Remember back in the day when your parents would take you to sears or whatever local photo studio and you would have to sit in front of that hideous backdrop and fake smile? These days, family photo sessions are more about capturing the family in their element. Well lit, well styled, and truly candid.
We shared a photo on our instagram a while ago that went viral.  It was liked over 11,000 times and received hundreds of shares on facebook. So it's only right that we interview the gorgeous family that has everyone in awe.  Meet the Stewarts, our first family featured on MunaMommy.
How did you meet? 
We actually met at the gym. People are often surprised, but we like to think we're just an example that a healthy lifestyle can pay off in more ways than one!
Tell us about the proposal.
My husband actually flew across the country to surprise me at home on Christmas Eve. All my family was in on it, and our tradition is opening gifts at midnight. His present was a pair of heels, and when I opened it he offered to help me try them on. Down on one knee he opened the box, and on one of the heels was a ring. He proposed and I was in tears. It was definitely my Cinderella moment!
When did you get married?
We got married in 2006 and we're celebrating our 10 year anniversary this July!
What is your occupation?
I am a stay at home mom and a fashion/lifestyle blogger.
What's an average day like in the life of the Stewart family?
An average day for the Stewart family starts with the kiddos waking up by 7am. Once they're up they spend some time playing with toys. Eventually we eat breakfast, the hubby is off to work and I head out with the kids for a walk around our neighborhood. Afterwards, the baby takes a nap and I get some one on one time with my big boy. We color, read, learn site words and numbers and before you know it it's lunch time. Naps for both come after lunch and I try to get some work done while they rest. When the kiddos wake up, we usually head into their nook to have snacks and read. Eventually  I leave while they play together and I start preparing dinner. Daddy comes home from work around 5pm, we eat together and then head to the park for some evening fun. We play with the soccer ball, or baseball or blow bubbles, we come back home for the kids bath time and then they're ready for bed. The hubby and I cap the night off by spending time together talking, watching a movie or even working.
How do you find a balance between family, work, and life?
We find balance between family, work and life by prioritizing family first and making the most of the time we have together. When it's time to work, we work hard. But we make room in our schedules for regular family time, we guard it jealously, and try to make the most of it. Trips to the zoo, local museums, eating good food or exploring the city.. When we capitalize on the time we have together, we've found that it helps to sustain us when life/work is busy and we're apart.
What is the key to successfully raising children?
I don't know about "the key" to successfully raising children, but unconditional love, patience and understanding are a great foundation. Treating each child as their own individual and adjusting your parenting style and approach to fit each temperament and personality is also really important. And to me, modeling the kind of values you want to instill in your children is the best way to teach child.
Do you have any tips/daily routines to share with other parents that you find has helped create a healthy balance or positive behaviors in your child's(or children's) life?
Stay positive. I'm constantly telling them how proud I am of them, and affirm positive behaviors which breed more positive behaviors. We've always spoken to the kids like they're older than they really are. So we've never done much baby talk. We explain for example why a negative behavior is negative even if they can't comprehend everything we're saying, and they usually surprise us with how much they do understand which leads to change in behavior/actions. Regarding tantrums, I've come to learn giving your child the opportunity to express their feelings and emotions really helps to minimize the length of the tantrum. Speaking with them at eye level and in a calm tone helps as well.
What are three things that parents can do to build a strong relationship with their children?
Three things that I would say parents can do to build strong relationships with their children are: 1) create one on one time with the child let them know how much they are loved through words and action 2) Be mindful of what you say and do around the children. They see and hear everything! Whether verbal or non-verbal, tone and inflection, they're observing you all the time and they take their cues from you. Earning and maintaining your child's respect and admiration is really important. 3) Finally, build trust. Be available, keep your promises and of course, never give up on them.
What is one of your favorite memories you share with your child/children?
One of my favorite memories with the kids was watching them take their first steps and their dependence on me to guide them and to see the confidence in their eyes grow with each step. It's such an anticipated moment and milestone that when it actually happens it's just beautiful.
Anything else you would like to share?
Children are a gift and so is the joy of parenting. Parenting can be demanding, exhausting, even frustrating at times, but it's also so much fun, life giving and gratifying. Children teach us about what's really important in life and remind us to never lose our childlike wonder as we live life and explore and experience all that it has to offer.
---
Thanks for sharing your family with us Vonette! Keep us with Vonette and her husband on instagram @vmarie401 and @tylerstewart12
If you'd like to have your family session featured, click here. 
What are the first things that come to your mind when you think of Memorial Day weekend? The first things that come to our minds are: barbecuing, drinking, going to block parties, driving down to the beach, and remembering the people who died while serving the country's armed forces. Our favorite part about Memorial Day is relaxing and having a delicious drink at a BBQ or the beach. We've rounded up 7 of our favorite mocktail and cocktail recipes for our munamommys!
Tropical Bay Breeze Cocktail
Ingredients:
2 oz pineapple juice
2 oz cranberry juice
1 oz of coconut malibu rum
splash of grenadine
Directions:
Combine all ingredients. Pour over ice and garnish with oranges, pineapple, and cherries.
Source: 
Spendswithpennies.com
Blueberry Mojito Mocktail 
Ingredients:
1 cup of fresh blueberries
A handful of mint leaves
2 teaspoons of sugar
juice of 2 limes
club soda
crushed ice
Directions:
First, puree blueberries in blender, and set aside. In cocktail shaker, muddle leaves and sugar. Add the lime juice and pureed blueberries. Shake well. Pour mixture into two tall glasses. Fill glasses with crushed ice. Top with club soda and stir. Lastly, garnish with lime wedge, blueberries, and mint spring.
Source:
TheMerryThought.com
Rosemary Blueberry Smash Mocktail
Ingredients:
8 blueberries
1 rosemary spring, stripped
1 oz honey syrup
1 oz of fresh lemon juice, strained
4 oz of sparkling water
Directions:
First, gently muddle blueberries, rosemary leaves, and honey syrup in bottom of cocktail shaker. Add lemon juice and shake, covered with ice fast for ten seconds. Strain through a mesh strainer into a tall glass of fresh ice. Top with sparkling water.
Source:
Townandcountrymag.com
Pineapple Cobbler Mocktail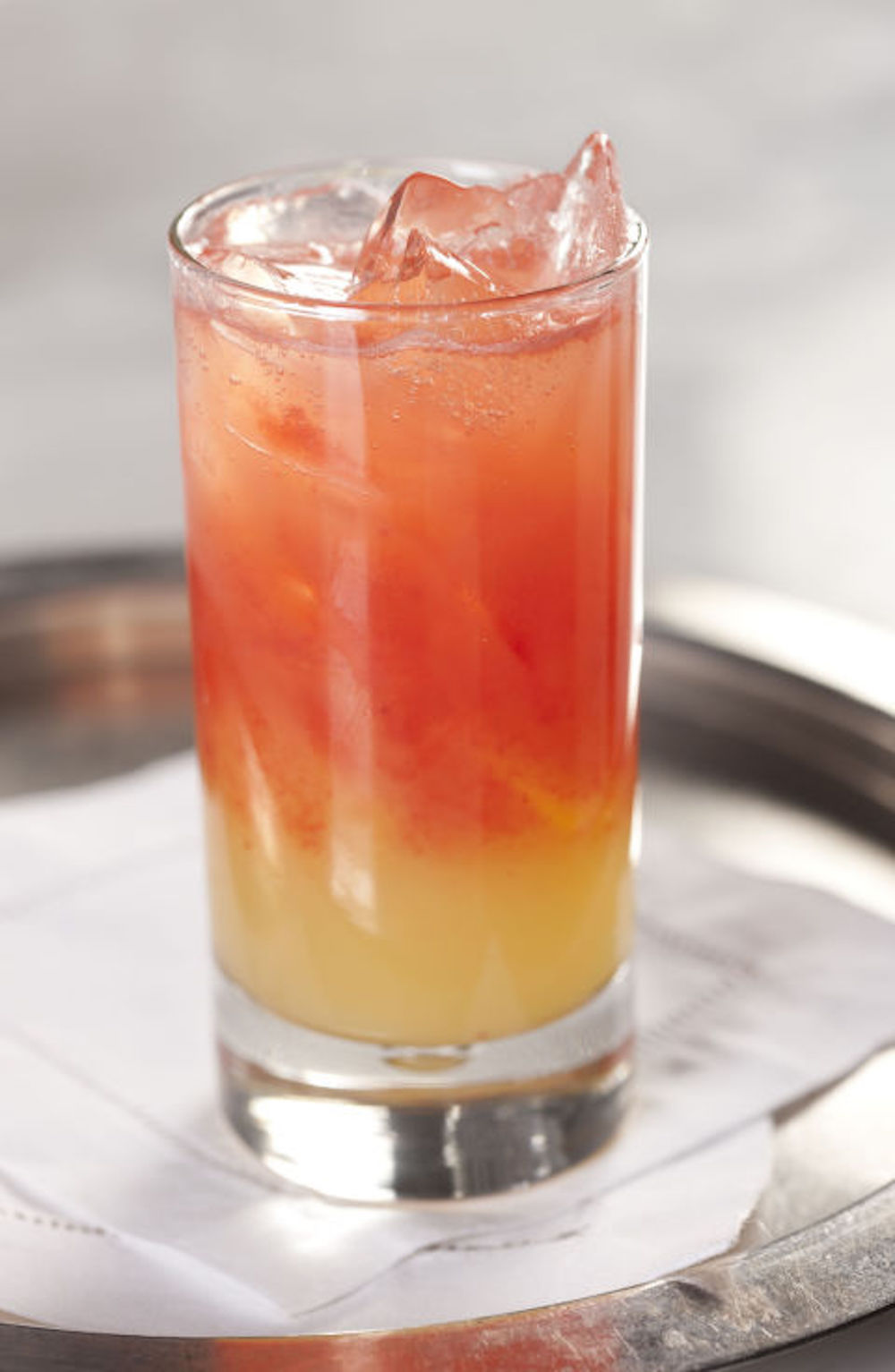 Ingredients:
1 oz strawberry juice
0.5 oz of lime juice
3 oz pineapple juice
club soda
Directions:
In a mixing tin, combine the lime and pineapple juice. Shake well. Strain the contents into a highball glass over clean ice. Top with club soda and float the strawberry juice on top. Lastly, garnish with strawberry.
Source:
Townandcountrymag.com
Blood Orange Margarita 
Ingredients for Blood Orange Syrup:
1 cup sugar
1 cup water
1 cup blood orange juice
Ingredients for Blood Orange Margaritas:
1 1/2 cup of blood orange syrup
1/2 cup of freshly squeezed lime juice
16 ounces triple sec
16 ounces high quality tequila
garnishes: lime, salt, blood orange wedges
Directions:
Blood orange syrup: combine sugar, water, and blood orange juice over medium heat. Simmer for 10 minutes, stirring occasionally. Take off the burner and cool.
Blood orange margaritas: In a blender, add the blood orange syrup, lime juice, orange liquor, and tequila and mix until combined for 30 seconds. Then pour in a salt rimmed glass filled with ice. Lastly, garnish with lime wedges or blood oranges.
Source:
Bestandbites.com
Blueberry Pineapple Margaritas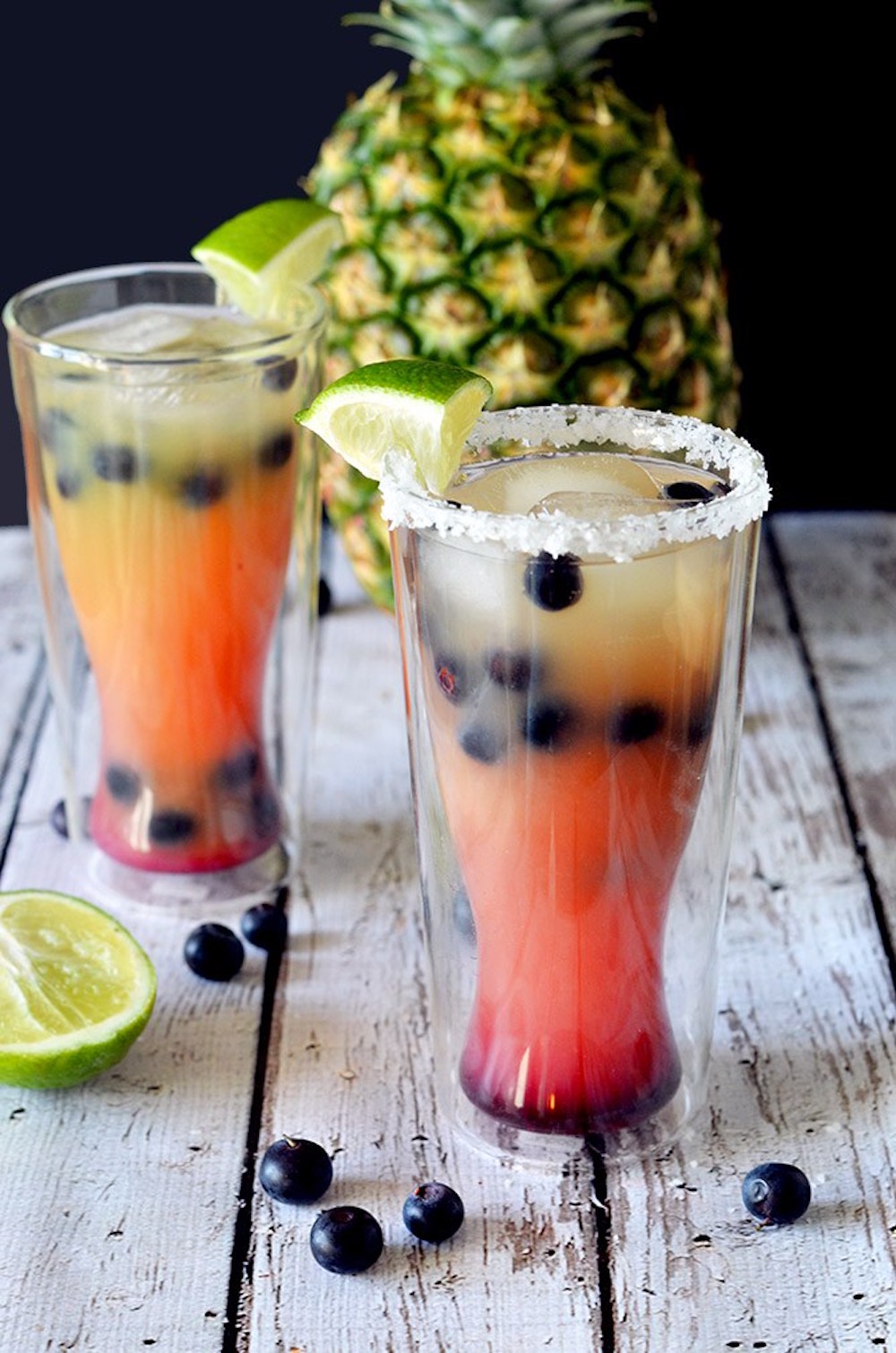 Ingredients for Blueberry Simple Syrup:
1/2 cup sugar
1 cup water
1 cup fresh blueberries plus more to garnish
Ingredients for Blueberry Simple Syrup:
3 cups pineapple juice
1 cup white tequila
3/4 cup freshly squeezed lime juice
1/2 to 1 cup of blueberry syrup
lime wedges of for of garnish
Directions:
To start, make the blueberry simple syrup. In a medium saucepan over medium heat, combine the sugar and water and stir until the sugar has completely dissolved. Add in the blueberries and bring the mixture to a boil. Reduce the heat to a simmer and continue to cook until the blueberries have let off their juices and are easily mashed with a spoon, about 5 minutes.

Strain out the solids and reserve the syrup. Refrigerate until cooled and ready to use.

Dip the rims of your glasses into the lime juice and then into the kosher salt, turning to coat. Set aside.

In a large pitcher, combine the pineapple juice, tequila, and remaining lime juice, and stir well to combine. Place blueberries and ice in each glass and fill ¾ of the glass with the pineapple mixture. Slowly pour 1-2 tablespoons of the blueberry simple syrup down the inside of each glass, allowing it to settle on the bottom slightly to create the gradient. Garnish with lime wedges and serve.
Source: Hostthetoast.com
Kiwi and White Wine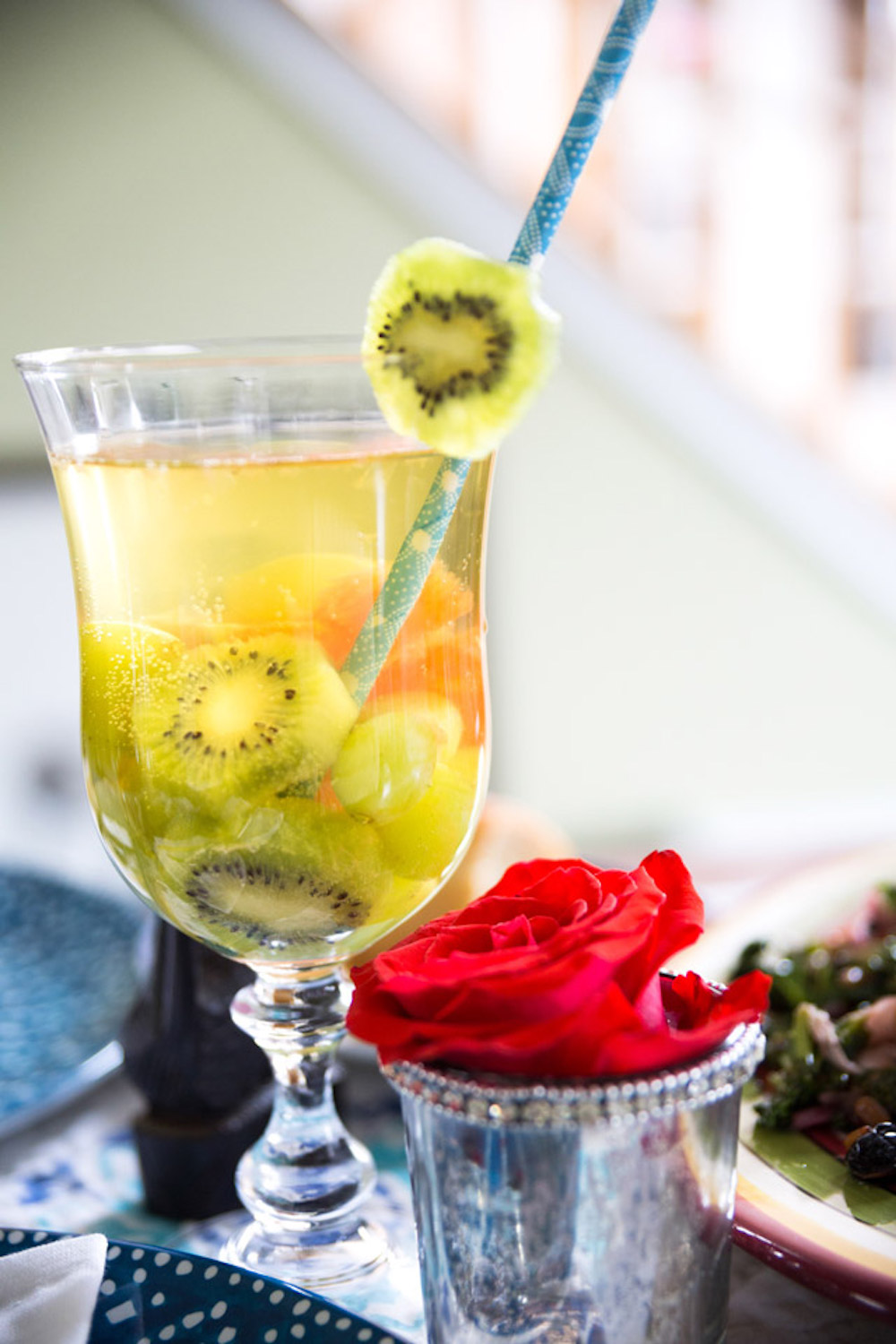 Ingredients:
1 Bottle (750 ml) of Chardonnay 2 Cups of Club Soda
1⁄3 Cup of Orange-Flavor Liqueur
2 Tablespoons of White Sugar
1 Cup of Seedless Green Grapes
2 Kiwis, Peeled and Sliced
1 Large Pear, Thinly Sliced
1 Honey Dew Melon, Peeled and Sliced
Instructions:
Mix the Chardonnay, Club Soda, Liqueur, and the Sugar in a Large Pitcher. Stir until sugar is dissolved.  Add the fruit. Refrigerate (Preferably for 4 to 6 hours)
Source: Recipe by Howerton + Wooten Events, Photographer: Natarsha Wright Photography
Which one of these delicious mocktails and cocktails will you be drinking on Memorial Day Weekend?