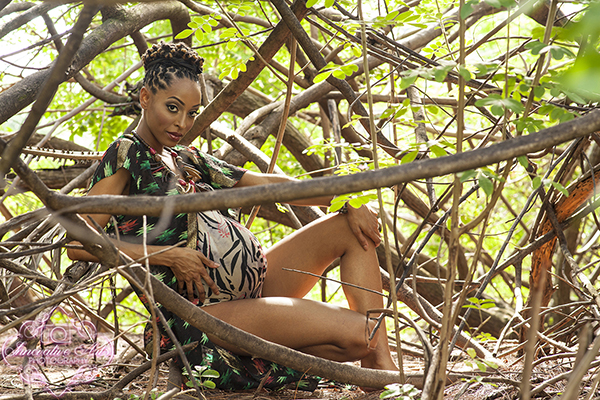 Mother…the source of all, from which we are given life, seek nourishment, learn by example, and find solace. In every embodiment of the word, whether in living form, represented by the earth, as nature entirely, or a spiritual power, "Mother" transcends culture, species, time and space.
For AGuy's family maternity session the complete concept of "motherhood" was inspiration, emphasizing how "we live amongst nature in the circle of life." She looks forward to the gift of hearing her child call her "mommy." For AGuy, "the roller coaster of emotions and complications a pregnancy brings" is completely worth the "unconditional love my kids put on my heart," something she would never trade for anything.
Explore AGuy's beautiful "Circle of Life" themed family maternity session!
MunaMommy-to-be: AGuy Smith
Maternity Session Location: Victoria Park. Fort Lauderdale, Florida
Is this your first pregnancy? No, 2nd. I have a son, Noah Kamau, who is currently 3 years old.
What's the inspiration for your maternity shoot? The inspiration was to shoot as if we were in the "Motherland" and that we live amongst nature in the circle of life.
What aspect of motherhood are you looking forward to most? There is nothing like hearing my NEW name, Mommy! In any situation whether, happy, sad, annoyed, excited, etc. the name is forever yours, and to be part of the creation of another humans' life is breathtaking. Regardless of the roller coaster of emotions and complications a pregnancy brings, it is all worth it in the end and I would never trade the feeling of this unconditional love my kids put on my heart. Thank you God for blessing my Husband and I!
Vendors:
Fashion – ViNu Styling Studio, Silky Lounge Resort Wear
Makeup Artist – Toshi Szpyra
Hair – Simone Hylton of Natural Trend Setters Hair Salon
Photographer – Tracy Ann Simmonds of Innovative Arts Photography
Related posts
1) What was the inspiration for your maternity session?
The inspiration for our maternity shoot was our love! We wanted to showcase our love for eachother by highlighting what we love about Jacksonville, the breathtaking downtown views and gorgeous beaches!
2) How has your first month been with baby Miranda?
This first month has been filled with joy. We actually welcome the 2am feedings and occasional crying sessions as this time is so precious and limited. She's truly a blessing from God and we look forward to every smile and frown!
3) What is your favorite baby product?
We actually have two favorite baby products! The first is the Safety 1st Electronic Aspirator from Target! It's the new school version of the nose sucker! We also love the 4Moms MamaRoo swing, the adjustable settings, varied musical selection, and option to plug in our own music has been a lifesaver!
4) How has becoming a parent changed you?
Being parents has changed us both for the better. Everyone told us we had no idea how much we'd love our new baby and they were right! We've both developed quite the voice for singing to Miranda and choreographing dances for her! (Which she loves already!) We've both also slowed down our pace quite a bit in order to take advantage of our time with her and live in the moment as time has flown since she's been born!
5) Do you have any advice for new parents?
Our advice for new parents is to always seek God first before making any decisions, prepare financially for the arrival of your little one by speaking with a financial advisor, and attend the pre-baby classes offered by your local hospital – we learned so much!
6) What is your biggest wish for your baby?
Our biggest wish for Miranda is for her to develop a loving relationship with God and to succeed in whatever she sets her mind to!
Details
Sara Lockett-Payne
Photo – Blue Franswa FotograFia